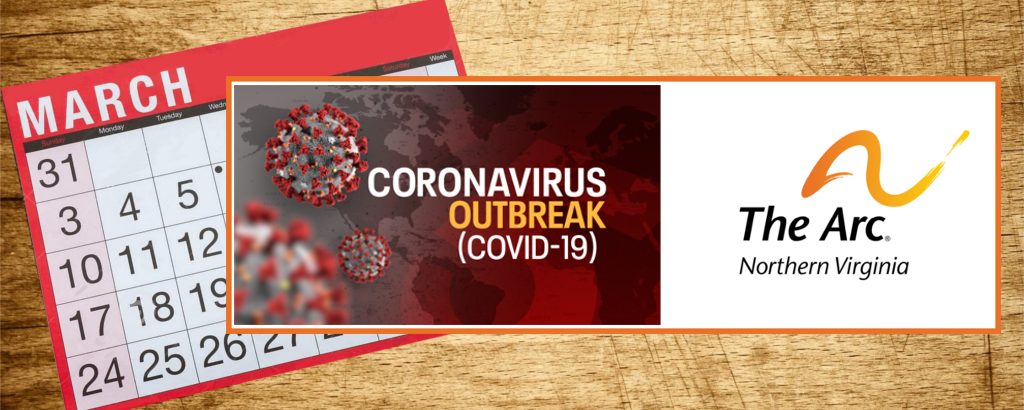 March, 2020

Dear Friend of The Arc of Northern Virginia,

I hope this new day finds you and those you love healthy and well.

Because you are such an important part of our Arc of Northern Virginia family, I wanted to share with you a brief update on where we are now, what we are doing to help those we serve, and how we hope to meet those needs moving forward.

By now, I assume you know we've closed our office. Our entire staff is working remotely. I am so proud of them, and their dedication to making sure our services continue without interruption, while at the same time taking care of their own families. It's taken a combination of planning, quick thinking, creative problem solving, good luck, and the occasional small miracle.

But it also takes your support.

You may have also heard that we have had to cancel BOTH of our spring fundraising events. Both our Benefit Breakfast and our Corporate and Community Team Challenge constitute a significant portion of our annual revenue. Cancelling, or even postponing, these events presents serious challenges for our ability to serve the community. And so, we must raise $50,000 now to be able to continue to serve the community as we have for over 58 years.

The Community cannot wait.

The suddenness by which this crisis has occurred means that families are forced to react to ever-changing realities in real time.  With every new announcement, with every new 'update,' families across northern Virginia are asking the question, "Ok, but what about….?"  While we're all trying to figure it out together, many are turning to The Arc of Northern Virginia for answers. And those answers cannot wait. Questions to our Information and Referral portal come in at all hours of the day and night. Messages come in via our social media channels every day of the week. Because lives literally hang in the balance. There are over 39,000 people with intellectual and developmental disabilities throughout Northern Virginia that count on us.

We cannot wait.

We have to keep meeting the need, as they are needed.  Because the families we serve cannot wait for help, we cannot wait until our fundraisers are rescheduled.  We have to keep our resources available for those who need help.  We have to keep our advocacy efforts loud and prominent in order to make sure that people with disabilities are not left out of the various relief packages. We have to engage the creativity of our amazing case managers to serve our clients while still meeting mandated requirements and guidelines.  We still have to serve our Special Needs Trust clients, who still need their bills paid on time.
We need YOU to not wait.

I know the goodness in your heart.  I've seen our community rally its support in past crises.  And while this one is very different in many ways, I believe that our spirit of caring transcends the specifics.  I believe you share an affinity for our mission as well as a deep appreciation for the staff that delivers hope, time and time again.  I genuinely hope you'll see the urgency, and help The Arc of Northern Virginia get past this crisis.  I urge you, if you are able, to make a contribution today.

Thank you, in advance, for your donation.  Thank you for your past and continued support of our work.  And thank you for believing, like us, that people with intellectual and developmental disabilities deserve every chance for a healthy, happy, inclusive life.
Yours in service,


Rikki Epstein
Executive Director

P.S.:  And equally importantly, is there any way we may help you?  Please email me if there is something that is on your mind, especially if it will help you and those with disabilities you love during this time.