Join our virtual run (or team distance walk) and "Go the Distance for People with Disabilities!"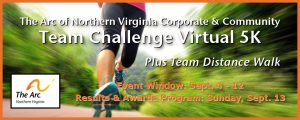 The Arc of Northern Virginia's Corporate and Community Team Challenge that brings together companies and community to raise important funds to sustain and strengthen its vital programs, services, and advocacy for people with intellectual and developmental disabilities.  This year, the premier corporate challenge foot race and the area's only team-based race with teams of 5-7 runners goes virtual, and includes more opportunities for individual runners and for walkers to particpate and compete as a team.
A virtual 5K is a race that you complete where ever you would like. Choose your own route in your neighborhood or favorite park. Then run or jog the distanceand record your time to complete the virtual run. You are "competing" against other runners who are also running their own routes and recording their time.
A virtual distance walk is one that you complete where ever you would like, and your distance is combined with others on your team, resulting in your total team distance. Walking teams can have up to 10 participants. Each participant chooses one day during the event window that they will do their walk. On this day, the participant records their distance for that one walk. Individual walkers will report their distances, and compiled to determine the final team results. This is meant to be a fun walk, one that is pet, family, wheelchair and even stroller friendly!
All you have to do to join in the fun is: 1) Register for the Team Challenge, 2) Receive your event package (T-shirt and race bib) in the mail, 3) Complete your 5K run or distance walk any time between Friday, September 4 and 12:00 noon on Saturday, September 12, 2020, 4) Post your result to the online race page, and 5) Join us for the LIVE race awards program online Sunday, September 13, 2020.
For full details, including links to the registration forms, click the button below.