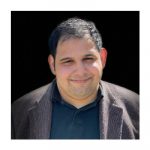 Earlier this year, The Arc of Northern Virginia launched The Frank Trippett Advocacy and Outreach Fellowship, and Joe Albert was hired as our first Fellow. In this series of articles, Joe shares his perspectives on the Legislative Agenda items for the 2023 Virginia General Assembly session.
———-
Legislative Agenda Item: Ensure Public Participation Access to Virtual Meetings
Public meetings – including those public commissions, boards, and work groups where citizens are appointed – must include full virtual access for equitable participation, including for voting on agenda items. Virtual means of access opens the door to greater representation of people with disabilities in our public policy discourse.
———-
"Influence over government must be shared among all the people."
-Thomas Jefferson
(Notes on Virginia)
Acting on the issue of the Virginia Code for attending Committee meetings virtually, The Arc of Northern Virginia has listed "Access to Virtual Meetings" as a priority for the 2023 General Assembly. Unfortunately, individuals with disabilities, their supporters, and families who attend meetings virtually have found themselves stuck in a position of being counted as only half a member. Current legislation doesn't count them towards the required quorum unless they attend in person, and family members or caregivers can only attend meetings virtually 25% of the time. It's a position that is undoubtedly confusing and uncomfortable, especially with all of the strides and cultural changes that have taken place with the advent of technologies such as Zoom and Microsoft Teams.
Out of many troubles and hardships with Coronavirus were the effects on services, especially for individuals with disabilities. From the disability waiver system to access to healthcare- many were shut out at the beginning of the pandemic. Hannah Natanson wrote an example of this in the Washington Post. In a detailed report by the US Department of Education, a conclusion was made that the Fairfax Public Schools badly failed students with disabilities during the coronavirus pandemic. These situations warrant and require disabled voices, supports, and families to voice and be given an equal seat at the table, regardless of being virtual or in person.
Before the changes, many individuals and families benefited from emergency protocols that were put in place. It was the silver lining of the COVID pandemic, one could argue. In addition, committees and boards were gaining access to voices that would never have been reachable. Disabled, elderly, caretakers, and even individuals with longer work hours.
All of these committees are enhanced by those with different experiences. The opportunity now is to give the same accessibility to these families and these individuals and to give them the same weight as those in person. The ability to be counted towards a quorum, so meetings can happen, and so we do not discourage appointers from suggesting people with disabilities join advisory groups, boards and commissions, is essential as they were able to during the pandemic. Parents and caregivers simply cannot often attend unless we allow them to go virtually, and vote that way. We are a country that has just come out of a midterm election. Many individuals with disabilities were encouraged to vote to have their voices heard. Another way is to participate in the local community and its government. What message do we send when we say that you only count as half a committee member due to your accessibility status?
A change to this code would allow more people to participate, not less, and allow for a more informed public and more informed committees. It would give opportunities to families, their support systems , and individuals with a range of experiences who may have never thought themselves able to participate before. Virginia has a chance to take advantage of an opportunity that came out of a dreadful experience known as the pandemic, and lead at the beginning of this new decade. A decade where all voices can count and be heard with the same weight and opportunity.
It's not just about disabilities; it's about all individuals from all walks of life.