Many thanks to our fabulous Director of Advocacy Lucy Beadnell for organizing a very productive advocacy day in Richmond!! Teams of advocates met with about 30 state legislators and legislative aides.
A highlight of the day was a very special ceremony. The Arc of Northern Virginia's Board member Sharon Cummings' son Conner presented Governor Ralph Northam with his very own Mickey Mouse ears!!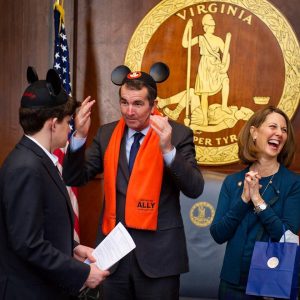 A few photos are attached. We will share more photos from this wonderful event soon, along with Conner's amazing speech.
Thanks so much to Board members Matt Evans, Mary Ford (and family), Sharon Cummings, and Michael Thomas for joining us today in Richmond!  What a great day!!