The Arc of Northern Virginia – A Community Resource for Your Employees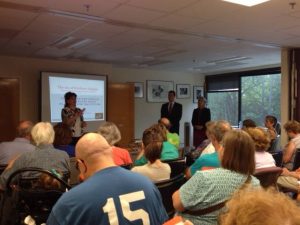 The Arc of Northern Virginia is a 55-year old local nonprofit that today represents and serves over 34,000 individuals with intellectual and developmental disabilities (ID/DD)—such as autism, Down syndrome, cerebral palsy, epilepsy, and rare chromosomal disorders—and their families throughout Northern Virginia. Our programs, services, and advocacy provide critical support throughout the entire lifespan of an individual, from diagnosis and early intervention services to aging with a disability.
The core of our mission is to educate families about the resources, practices, and strategies that are available to help meet the needs of their family member with a disability. With the current rate of children born with autism at 1 in 64, plus other intellectual and developmental disabilities, we know that the large companies in our region have a great number of employees who care for loved ones with ID/DD and struggle in navigating their changing needs.
We are pleased to launch a new effort to bring our educational offerings to companies throughout Northern Virginia to assist your employees as they plan for their loved one with ID/DD—at no cost to your company or employees.
Format Options
A staff member from The Arc of Northern Virginia can come to your company and provide essential disability information in a number of formats:
a traditional workshop in a single location
a workshop in one location with webinar access to allow employees in other office locations to participate as well from their own sites
a small-group lunch session to discuss specific employee needs and concerns
Choice of Topics
All presentations would include an overview of the programs and services of The Arc of Northern Virginia, as well as several specific topics selected from:
Special Needs Trusts and Futures Planning
Guardianship and other Alternatives
Medicaid Waivers and Social Security Benefits
Local and State Advocacy Efforts
Advocating for Your Child's Educational Needs
Transitioning from the School System
Housing Options
Employment Opportunities
Presentations feature information on Northern Virginia; for companies that have additional sites in DC or MD, selected details can also be included about those regions.
Informing Your Employees
The Arc of Northern Virginia can work with the appropriate person at your company to organize and publicize an onsite workshop that will assist your employees with a loved one with a disability.  Even if you are not ready at this time to hold a workshop, we can provide you with pre-written sample texts that can be easily included in your communications to employees, such as company newsletters and human resources information. Your employees will benefit to know that The Arc of Northern Virginia is available to them as a community resource.
For More Information
Please use our form: