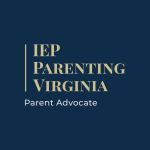 Business Description
At IEP Parenting Virginia, we believe that all children have potential and strengths, and our mission is to partner with parents in helping their child to best develop theirs.
• Who? We partner with parents of a struggling child.
• What? We help parents become their child's advocate/coach
• Why? We help ensure that children receive their school IEP rights under IDEA, a federal law.
• Where? We predominantly offer digital/remote services, although we will attend IEP meetings.
• To what end? We seek to improve the lives of children and families by helping parents grow into their child's advocate and coach.
Address:
13208 Pressmont Lane Fairfax, VA
22033