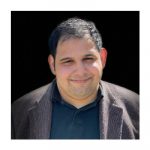 Earlier this year, The Arc of Northern Virginia launched The Frank Trippett Advocacy and Outreach Fellowship, and Joe Albert was hired as our first Fellow. In this series of articles, Joe shares his perspectives on the Legislative Agenda items for the 2023 Virginia General Assembly session.
———-
Legislative Agenda Item: Ensure Access to Curbside Voting for Virginians with IDD
Current Virginia code only allows for curbside voting for seniors 65 and over, and registered voters with a physical disability. The Arc of Virginia and chapters of The Arc across the commonwealth want the law ammended to remove the word "physical," allowing anyone with a disability to vote curbside, in person, if they choose.
———-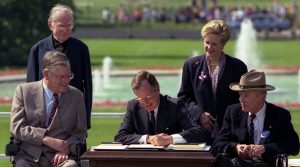 On July 26, 1990, before signing a landmark bill — the Americans with Disabilities Act (ADA) — President George H.W. Bush remarked to the audience that the ADA would give disabled Americans the "opportunity to blend fully and equally into the rich mosaic of the American mainstream." Thirty-two years later, Virginians without physical disabilities are unable to take part in curbside voting, due to the current Virginia code.
Virginia's law on curbside voting only allows seniors over 65 and individuals with physical disabilities to participate in curbside voting. This greatly restrains individuals with non-physical disabilities who can't always predict the conditions of polling centers, including crowds, loud environments, lines, unexpected situations, and much more. Additionally, not every individual with a disability will know how they will be able to handle the environment or how they'll be feeling. Not giving them an option or an alternative to voting in person on election day prevents them from having the opportunity to "blend fully and equally into the rich mosaic of the American mainstream," as President George HW Bush said in 1990.
Our advocacy effort is to convince the General Assembly to remove the word "physical" that comes before "disability" in the Code regulating curbside voting. This would allow all individuals with disabilities to vote in person, participating in curbside voting on election day regardless of physical or non-physical disability. It would give those with disabilities, who may not know how they'll feel on election day or may be unsure about conditions, a chance to know that they have an option to fall back on. This will also allow them to continue to act as part of the tradition of voting in person on election day, joining millions of Americans across the country and the state as part of the mainstream.
The Arc of Northern Virginia and many others are working to correct this oversight, and we invite you to find out more by visiting us at https://thearcofnova.org/advocacy/