---
"A Life Like Yours" Virtual Benefit Breakfast was presented 'Live' online on

Thursday, March 25, 2021
---
The Arc of Northern Virginia's "A Life Like Yours" Benefit Breakfast raises important funds to sustain and strengthen its vital programs, services, and advocacy for people with intellectual and developmental disabilities.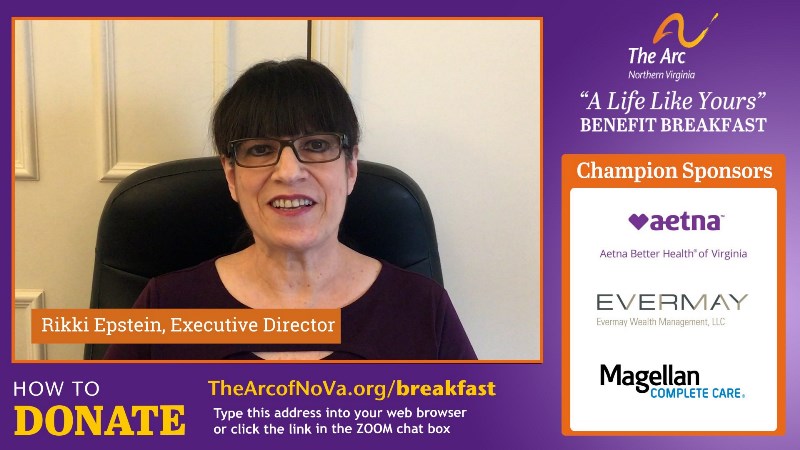 Watch the Recording
---
Our live event was so incredible, of COURSE we're proud to share the recording with you. Please feel free to share the video link with others who may be moved and inspired by the stories of our presenters.

Make an on-line donation TODAY!
---
We know you care about your community.  We know you have the heart and desire to help families, to ensure that everyone with a disability gets to live a fulfilling life of their choosing.  We also understand busy schedules.  If you were unable to join us for the live event, you can still become a supporter.  Your generous contribution to support our mission means that we move ever forward toward our vision.

About the Breakfast
---
This year's breakfast theme was "Defined by Strength and Resilience." Among our core values, People First is the belief that all people with intellectual and developmental disabilities are defined not by their disability, but by their own strengths, abilities, and inherent value. These are the defining principles that drive their resilience to overcome the challenges they face every day, every year. Defined by Strength and Resilience, the individuals we serve inspire all of us to fight for full inclusion; for the opportunity to live "A Life Like Yours."
Thank You to our Sponsors!
---
We would like to thank the following sponsors for your support of our mission and making the 2021 A Life Like Yours Benefit Breakfast possible:
Champion Sponsor:
• Aetna Better Health of Virginia
• Magellan Complete Care of Virginia
Event Sponsors:
•  The Egan Family
•  FreshEye Innovative Solutions
•  Robbie and Marianne Werth
Questions? Just Ask!
---
Questions about the breakfast? Email us at:  Events@TheArcofNoVa.org
Interested in being a supporter?  Email Howard Stregack, Director of Development at:  HStregack@TheArcofNoVa.org