Followed by a discussion about the present state of equality for the disability community.
---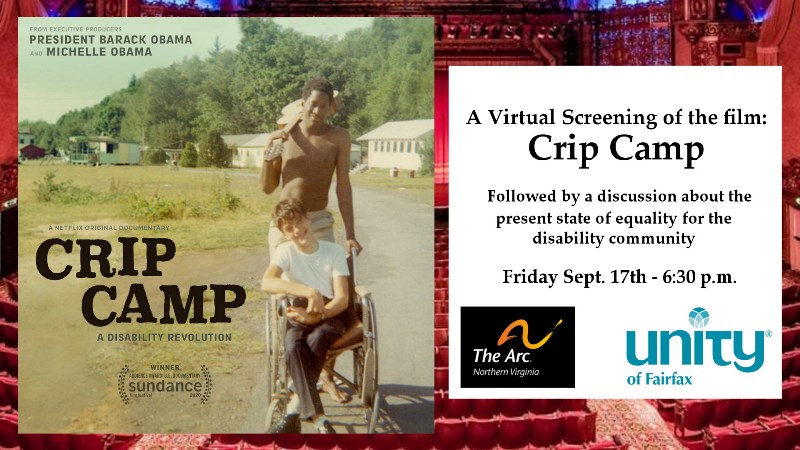 Friday, September 17, 2021
6:30 p.m.
Free
On January 26, 2012, a Settlement Agreement was reached to address the US Department of Justice findings that the Commonwealth of Virginia failed to provide services to individuals with intellectual disabilities in the most integrated setting appropriate to their needs as required by the ADA and US Supreme Court's Olmstead Decision. Implementation of the requirements of the Agreement were projected to take 10 years.  Virginia is still working on it.
* * * * *
Join us for the 2020 Sundance Film Festival acclaimed documentary, "Crip Camp".
From a summer camp experience of freedom and oneness came advocates who changed the world. During a time of civil unrest, of Vietnam war protests, and Woodstock, there was also an historic and heroic documentation of self-advocates being created. These individuals, with their own challenges, insisted on equal rights for themselves and for all those living a life of imposed limitations.
This documentary follows them from a memorable summer camp experience to decades later as they realize what's important to them, and those like them. The messages within will move you and stick with you as you watch how these brave individuals sought out "a life like yours".
Rated R for sexual references and some language.
Co-sponsored with Unity of Fairfax.
After the Film
Following the movie, we will have a virtual panel discussion related to where we are now, in terms of civil rights for people with disabilities. Panelists will include two self-advocates, as well as a Civil Rights attorney from the Department of Justice who is working on Virginia's current settlement agreement.
Panelists
Civil Rights Attorney from the Department of Justice, working on Virginia's current settlement agreement
Katherine Montgomery, self-advocate
Justin Dolan, self-advocate