The Arc of Northern Virginia Presents…
A ReelAbilities Film Festival Movie ~ My Feral Heart
My Feral Heart

Dir. Jane Gull/ 83 min/ UK/ English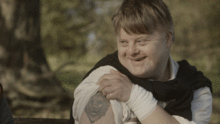 Sudden bereavement throws Luke, an independent young man with Down Syndrome, into a care home, where his frustration finds release in unexpected friendships and long-buried secrets.
Accessibility: Open Captions

DATE & TIME:
March 12, 6:00pm – 8:00pm
LOCATION:
7010 Braddock Rd, Annandale, VA 22003, USA

MORE ABOUT REELABILITIES:
The JCCNV Cultural Arts Department is proud to present the 6th Annual ReelAbilities Film Festival: Northern Virginia in March 2018. ReelAbilities is the largest film festival in the country dedicated to promoting awareness and appreciation of the lives, stories and artistic expressions of people with different abilities. Initiated in NY in 2007, the festival presents award winning films by and about people with disabilities. ReelAbilities events have been held in over a dozen cities in North America and Canada.
For more information visit northernva.reelabilities.org.