Friday, November 17, 2023
Online on the Zoom meeting platform
Link provided upon registration
Learning that your family member or loved one has an intellectual or developmental disability can present emotional and logistical challenges, and the accompanying feelings of solitude and powerlessness can be hard to manage.
The Family Village Forum gives parents, family members and caregivers like you the opportunity to meet and build a community to promote strong individual support and forward-moving advocacy.  Our goal is to provide a space for you to share your stories and ask questions of others who have gone before you or are currently experiencing similar circumstances, in the hopes of building confidence and a sense of purpose in the advocacy efforts of our families.
Our first meetings will concentrate on families who are new to the disability world, with an emphasis on early intervention and special education. A longer-term goal is to provide opportunities for you to spread your message into the world, and to work through volunteerism and public advocacy to build a more inclusive society.
Facilitated by Rob Hudson, Community Outreach Associate and Trippett Fellow at The Arc of Northern Virginia.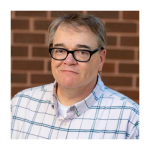 Rob's advocacy on behalf of his daughter, Schuyler, who has a rare disorder called polymicrogyria, has guided his personal philosophy for the past twenty years. He published a memoir about Schuyler with St. Martin's Press in 2008. Rob has written for a number of publications and has presented, with Schuyler, at numerous disability and assistive technology conferences. Their message is one of hope, and most of all the belief that disability rights are human rights.
Rob is an intergral part of The Arc of Northern Virginia staff, working in the Communications and Community Relations department, supporting Advocacy efforts and other programs and projects of the chapter.