2017 has been a tough year in many regards. Our budget included 494 Waivers for the Developmental Disabilities Waiver waiting list of 11,251 people.   Of the 11,251 people waiting, 2,759 people are on the Priority One waiting list because they have been found to have needs so great they should not wait more than a year for services.  

That means in each House 

district

 there is an average of 112 people on the waiting list per House 

District

, 28 who are in urgent need.  In each Senate 

district

 there is an average of 281 people waiting for Waivers, 69 in urgent need.
As a reminder of this need and how far your amazing advocacy goes, we would like you to 
meet
 Brian, our July Waiver story.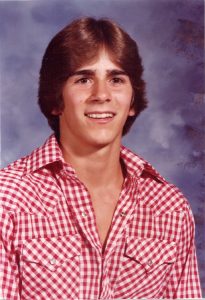 My name is Brian and I've lived in Northern Virginia most of my life, but I was born in Hawaii and we lived in Belgium in the early 70's.  I grew up with my three brothers and one sister in Springfield.  I had completed two years at Longwood College and was planning to transfer to Virginia Tech in September 1985.  One July night, after drinking a lot of beer, a friend and I decided to drive to the beach.  I fell asleep at the wheel and we crashed.  I had a traumatic brain injury and spent months in a coma, followed by a year of rehab, re-learning things I'd done my whole life, like walking, talking, and eating.  My family stood by me.
I went back to live with my Mom and Dad and my younger siblings.  I didn't want other kids to make the same mistakes I did, so I put together a presentation and with help and encouragement, I was able to visit a lot of local high schools and talk about my accident, so they would understand how important it was to wear their seatbelts and never drink and drive.   I know I saved lives – I have a stack of thank-you notes from students and teachers.  It gave me a lot of satisfaction to do this work.