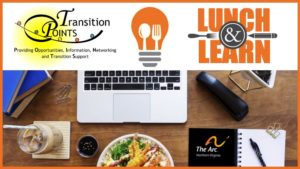 Here is the schedule and details for our Transition Lunch & Learn sessions in June:
Wednesday, June 7th
12:00 noon – 1:00 p.m.
Lunch & Learn – Open Round-Table
Join this session, where we give you the chance to ask your questions, be part of the discussion, and learn from the answers to other's questions.
Wednesday, June 21st
Lunch & Learn with a Special Needs Trusts Expert
For this session, our guest will be Tia Marsili, Director of Special Needs Trusts for The Arc of Northern Virginia.  Tia will focus on Special Needs Trusts and futures planning. She will walk you through the importance of planning for the future of your loved one with a disability, and how trusts and ABLE Accounts are important financial tools.
Click the button below to register for any of the upcoming Transition Lunch & Learn sessions.


If you have questions, please email Diane Monnig, Transition Manager at dmonnig@thearcofnova.org.
Planning for the transition from school to adult services can be an overwhelming task. Once your child exits the school system, adult services are based on eligibility criteria and funding availability. These small group sessions are an opportunity to begin creating a plan for the future. Learn what kinds of employment and meaningful day support services are available, how to explore post-secondary options, what transportation supports exist, how to help your child make decisions and advocate, when to apply for SSI and manage benefits, and what recreation activities are available.
It's never too early to plan; you don't have to wait until your student is close to graduation. Also, these Lunch & Learns would be a great way for families who started the process but got overwhelmed or stuck to find the motivation to restart the process and press forward.
This is a virtual meeting on Zoom. Remember, all of our webinar events are FREE to attend, but pre-registration is required.
Looking Ahead:
July 5th
Lunch & Learn – Open Round-Table
Join this discussion to ask your questions and learn from the answers to other's questions.
July 19th
Lunch & Learn with an Expert
The topic and expert presenter for this session will be announced soon.
NOTE:  There will be no Lunch & Learn sessions in August.  After a "summer break," the programs will resume in September.