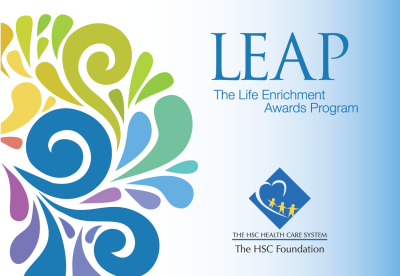 HSC Foundation has once again named The Arc of Northern Virginia a Community Partner in their Life Enrichment Awards Program (LEAP).  As a community organizations partner, we work with the HSC Foundation to carry out the LEAP program, making it possible for more youth and young adults with disabilities to transition to their next step, whether it is more school, training, or a job.
The purpose of the Life Enrichment Program (LEAP) is to enrich the lives of youth and young adults with disabilities and chronic illnesses in the Washington, DC metropolitan area. This program is supported by a grant from The HSC Foundation". LEAP provides goods and services that facilitate youth transition planning and for which resources are usually not available from public service and government agencies. These goods and services are not covered by Medicaid or private insurance and are not considered "medically necessary".
Transition planning means a focused effort on improving the academic and functional achievement of the youth with a disability to facilitate the movement to post-school activities, including post secondary education, vocational education, integrated employment, continuing and adult educations, adult services, independent living, or community participation.
Applicants must reside in one of the following areas: Alexandria, Arlington County, Clarke County, Culpepper County, Fairfax, Fairfax County, Falls Church, Fauquier County, Loudoun County, Manassas, Manassas Park, Prince William County, Rappahannock County, Spotsylvania County, Stafford County, Warren County.
•  Must be between the ages of 14 and 26
•  Must not have received a LEAP grant within the past three years
•  Must have a documented disability
•  Requested goods and services must be directly linked to transition planning and implementation (Examples may include tutoring, laptops, career development, independent living skill development, skills camp, behavioral therapy, etc.)
•  Maximum grant amount request must not exceed $1000
The application Deadline is Friday, October 25, 2019. Applicants will be notified of results by phone and/or email by November 1, 2019.

For more information or to ask questions about the application process, contact Diane Monnig, Transition Manager at 703-208-1119 ext. 118 or email dmonnig@thearcofnova.org.