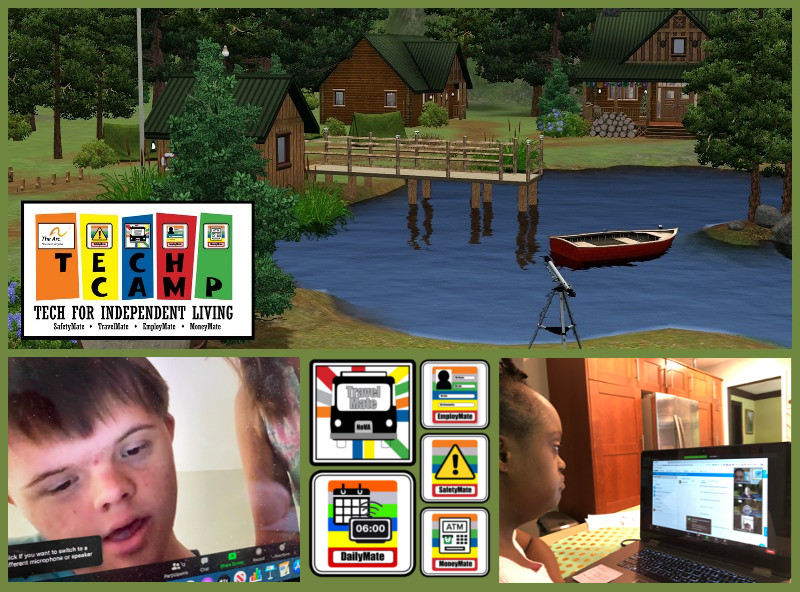 TECH Camp: July 2020, a pilot program, was a huge success.  Not because there were no technical glitches in using virtual programming, because there were.  And certainly not because it was blue skies and white fluffy clouds because it rained and stormed every – single – day of the four-day adventure that relied totally on the internet and electricity to work.  It was exciting to be a part of something that connected people during a time in our society where so many feel disconnected and alone.  It was energizing to be with parents and individuals with developmental disabilities – together – attempting to overcome obstacles and learn new ways of supporting independence for all.  It was illuminating to watch small groups figure out how to customize lessons for their campers and even more amazing to watch our campers then follow through and learn how to do new tasks like doing laundry, grocery shopping or following a Metro Map.  It was fun, it was hopeful, it was exciting!
"He is much more motivated to learn when he sees pictures and videos of himself within the activity. I learned how to create new lessons with him as the star of the show. He really likes to watch them so he's getting the material over and over. He's also motivated to actually do the chore or activity after spending time getting to know the other participants."
When we first started thinking about doing this TECH Camp program to reach out for the first time to families in a virtual yet personal and interactive way, it seemed overwhelming.  How could we just use a virtual interface and not be together face to face?  How could we work with parents AND young people at the same time?  Could we include self-advocates as peer counselors in real and meaningful ways?  Could we make this fun and engaging at the same time and have it all happen over the internet?   Well we could and we did.  Not perfectly of course.  We learned a lot and have many improvements to make before our next one.  But our parents and campers and peer counselors learned new ideas and found innovative ways to support one another as well.
"The enthusiasm and care of the leaders has been tremendous. Love how you are supporting our children. I like the breakout groups too. It has been nice getting to know my groupmates."
TECH Camp: July 2020 was a virtual program provided by The Arc of Northern Virginia's Tech for Independent Living Team that 12 families committed to participating in for four days from Tuesday July 21st to Friday July 24th.  Each family sent a Designated Adult (DA) that could be a parent, sibling, or caregiver.  In some families both parents attended which was super cool.  The focus was on the Camper, an individual with a developmental disability over the age of 18.  This camp sported an age range from 18 to 35.  Most individuals were currently living without daily activities because COVID had shut them down, from school to day support to employment.  We also were fortunate to have a few young adults with disabilities who agreed to be peer counselors and help mentor and hang out virtually with our campers, especially during the evening "Campfire" activities.
"I really enjoyed the interaction with other families experiencing the same problems and questions. It was nice meeting new people. It was good to get to know everybody and feel like it was a group experience."
Each day featured a main Zoom gathering from 10am-12pm.  This "Lodge" meeting was where the DA's and Campers received information and support about how our TravelMate and DailyMate work on our software platform called ONEder.  During this period the participants also attended smaller breakout "Cabin" meetings with the same group several times each day.  During Cabin meetings, decisions were held about what lessons to create, troubleshooting occurred within the group and sharing about supporting independence with technology happened.  The Zoom time overall was filled with music, laughter, sharing and information and lots of waving.
"I think Tech camp did a great job of making everyone feel welcome. I am impressed with how engaged my camper is with all the virtual meetings – lodge and cabin. I think he's happy to see other faces and feels that he's a part of the group. Technical help was excellent. We especially appreciated being able to get our cabin counselor's perspective on the apps and the best way to use them based on his experience."
The next portion of the program was called "Stump the Expert" where participants (mostly DA's) signed up for a one on one Zoom or because of the daily storms often facetime calls with one of The Arc of Northern Virginia's Tech for Independent Living staff members.  Participants could ask about technical or living with disability issues and get advice or just a chance to talk it out and learn about resources.
"The enthusiasm and care of the leaders has been tremendous. Love how you are supporting our children. I like the breakout groups too. It has been nice getting to know my groupmates."
Each afternoon "Daily Activities" were emailed that were connected to travel training or learning skills to build independence.  These activities were designed to be fun and appeal to every learning style.  They included Scavenger Hunts, Spiderwebs, and Escape rooms.  While fun, they also taught key concepts such as preparing a back pack to take on a bus trip, breaking through obstacles that might arise on public transit and working out the steps it takes to compete a task or trip.  Through the four days, each family worked on one or two lessons customized for the individual to complete a daily routine or take a trip on public transit.  These lessons were then the feature presentations done by each family on the last day for the TECH Camp "Talent Show".  Friday also included a guest appearance by the founder of ONEder – our computer software platform – who was inspired by the parents and gave them free access to additional classroom content, thousands of lessons in science, math and language arts for parents to use to enhance and supplement distance learning.
"The activities themselves were great. Creating lessons at first was trial and error for me, but the activities leading up to the lessons were helpful to create a framework. Involving my camper in as much of it as possible was the best approach, since the final product was for him." 
TECH Camp: July 2020 was a first attempt at doing something in a very different format.  It was a trek outside the boundaries of normal comfort levels for everyone.  What was so exciting is that everyone rose to the challenge and together we made the experience a success.  Campers lasted longer than expected staring at a screen and staying engaged.  Parents dove deep into letting go of previous expectations and learning how their young person responded to the technology formats and allowed them to overcome perceived obstacles.
"It reminded me that there are many types of learning and approaches to becoming independent; some I have never thought of. It was really nice to be with a group that was interested in this next step toward becoming independent."
"Using the apps should help my child become more independent. He is motivated to use his phone or tablet and to see himself in the lesson."
Our staff is busy modifying and adding new elements to the TECH Camp experience taken from survey suggestions from participants.  So just like summer camp, an experience of highs and lows with a group of strangers who become friends, participating in TECH Camp: July 2020 allowed all of us to come away with a better understanding of how independence might be more possible than we thought… not just for the campers but for the whole family as well.
 *   *   *
Watch our website and social media for announcements about our next TECH Camp session, to be held later this fall.