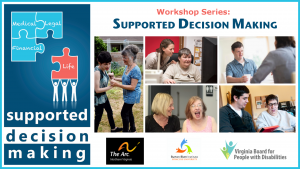 Supported Decision Making is a fast growing national trend for adults with disabilities determining how to make decisions in adulthood. The Arc of Northern Virginia is proud to be partnering with Burton Blatt Institute of Syracuse University and the Virginia Board for People with Disabilities to expand awareness of this game-changing option. Join us for a series of workshops that will examine what Supported Decision Making is, how to use it, and how and why it can be a better than guardianship for many people. These are "must see" sessions for anyone considering legal authority issues as someone with a disability approaches or navigates adulthood.
Workshop dates are:
Wednesday, February 12th,
Thursday, March 12th, and
Thursday, April 16.
For more information, or to register for any or all sessions. click the button below.

For additional tools and resources, including fact sheets and videos,
visit our Supported Decision Making Resource Library.