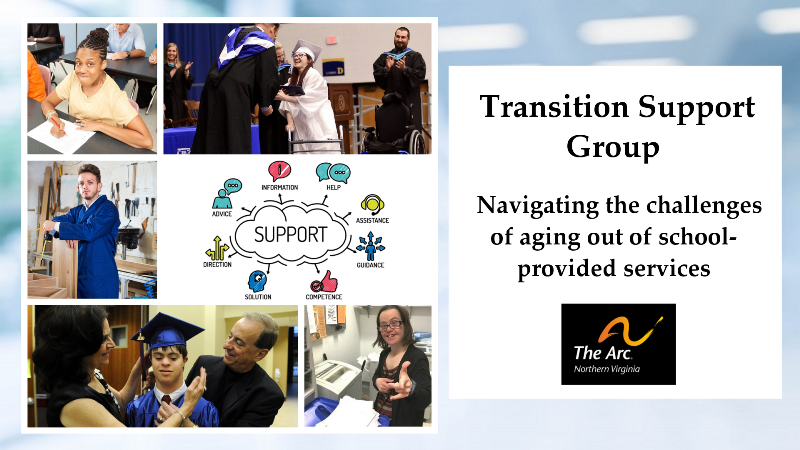 The purpose of this support group is to share resources and experiences primarily among families who have young adults who have aged out of a school system or who are in their last year of school and will age out of a school system next June. We also welcome others who wish to learn more about this process to be better prepared when their child ages out in the future. The facilitator will try to connect families with existing resources in the community if they are not already familiar with them.
Nicole Zupan will facilitate this group. In addition to being a support coordinator at The Arc of Northern Virginia, Nicole is the parent of a young adult on the DD waiver waitlist who has recently exited the school system, so she knows well the challenges of trying to navigate the various options available to those still on the waiver waitlist. Nicole has been an active advocate for families over the last 15 years. She is a longtime member of Parents of Autistic Children of Northern Virginia (POAC-NoVA), and served as POAC president for 3 years. She has created family support groups at elementary schools for families of children with special needs. Before coming to The Arc she was a special education teacher with Fairfax County Public Schools, opening up two enhanced autism programs at two Title I schools. She is also on the board of Autism Community Alliance, a nonprofit hoping to provide day programming with meaningful opportunities in the community for young adults who have exited the school system.
Meeting Information
Date: Saturday, November 18, 2023
Time: 10:00 a.m. to 12:00 noon
Location: IN-PERSON at The Arc of Northern Virginia, 3060 Williams Drive, Suite 300, Fairfax, VA 22031
At this meeting our speaker, we'll hear from a staff member of the Bright Center in Manassas.  Bright Center creates an enriching environment for the community it serves. The nonprofit organization plays an important role in helping special needs youth transition to adulthood after high school. In addition to day program, offerings like summer camps, before- and after-school care, and community inclusion programs help those with intellectual or developmental disabilities, like autism or Down syndrome, build a purposeful life and establish a community where they can succeed.
As always, there is no cost to attend the group meeting, but pre-registration IS required.  Additionally, attendance at this meeting is being limited to 25 people.