Register for a Free Family Information Session at The Arc of Northern Virginia
Use the links below to see all the dates and registration for our free family information sessions.
All Sessions are located at:
The Arc of Northern Virginia
2755 Hartland Road, Suite 200
Falls Church, VA
 

22043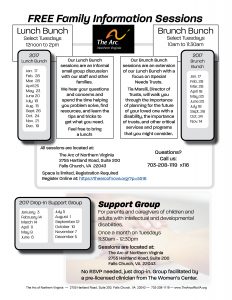 12:00pm – 2:00pm
Our Lunch Bunch sessions are an informal small group discussion with our staff and other families. We hear your questions and concerns and spend the time helping you problem solve, find resources, and learn the tips and tricks to get what you need.Feel free to bring a lunch!
Once a month on Tuesdays
10:00am – 11:30pm
Our Brunch Bunch sessions are an extension of our Lunch Bunch with a focus on Special Needs Trusts. Tia Marsili, Director of Trusts, will walk you through the importance of planning for the future of your loved one with a disability, the importance of trusts, and other critical services and programs that you might consider.
Support Group – No RSVP needed, just drop-in.
Once a month on Tuesdays
11:30am – 12:30pm
For parents and caregivers of children and adults with intellectual and developmental disabilities.  Group facilitated by a pre-licensed clinician in partnership with The Women's Center.