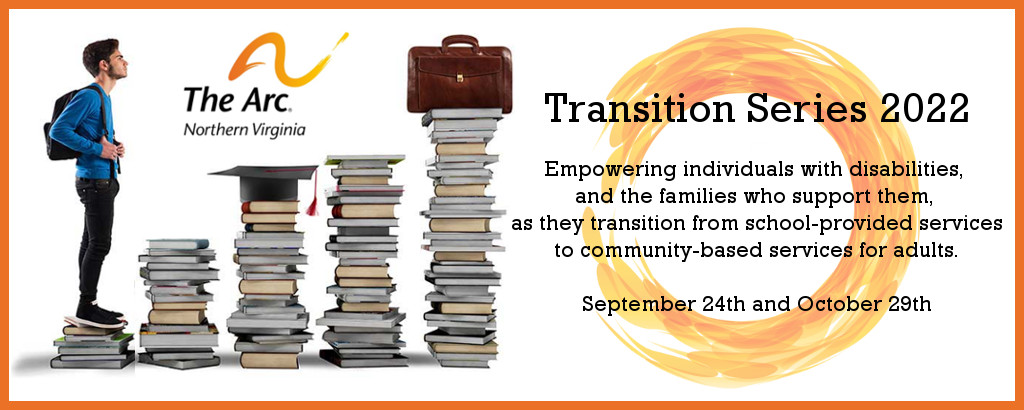 Transition Series 2022 SOLD OUT
"The Transition Series is such a useful event. I have attended twice, and I find that I always learn something new, about these complicated topics. It has really helped me both as a parent and as a professional who works with parents of students with developmental disabilities."
"My husband and I attended the Transition Series Workshop this past Saturday. Wow, did we learn a lot! Thank you for two great sessions! MY son also made a friend! – invaluable!"
"I just wanted to thank you again for your hard working organizing this Series!!!! It was EXTREMELY helpful and exactly what we needed as parents to a transitioning senior in high school. God bless you!"
---
The Need
As the parent of a child with a disability, until now you and the school system have shared the responsibility of how your child will spend the majority of his or her time during the day. Most likely your child lives with you, goes to school, and perhaps engages in activities sponsored by the school system or in which other peers participate.  However, once a child exits the school system, the young adult, the parents and family must take the lead in defining and navigating the future.  This means researching and advocating for services in areas such as employment, meaningful day activities, recreation, and housing.  It also means making arrangements for your child's long-term financial security.  Making decisions for an adult child with a disability can be complicated and overwhelming.
Meeting the Need
Transition Series is our annual 2-day*, interactive experience designed to educate and empower families and individuals with disabilities as they transition from school-provided services to community-based services for adults.
Presentation Topics for Parents, Caregivers & Disability Service Professionals Include:
•  Overview of The Arc of Northern Virginia & the Transition from School to Adulthood
•  Overview of Community Service Boards (CSB) services
•  Medicaid waivers and managed care
•  SSI and SSDI
•  Special Needs Trusts & ABLE Accounts
•  Making decisions with supports
•  Employment support services
• and a Parent Panel
Discussions & Hands-On Activities for Transitioning Youth & Young Adults (ages 14-26) Include:
•  Recreation and social activities
•  Communication skills
•  Self-advocacy skills
•  Soft skills
•  Employment skills
---
Transition Series Details
Dates*: 
Saturday, September 24th –AND– Saturday, October 29th
Times:
8:30am – 3:00pm
Location:

LMI Corporate Offices at Tysons Overlook
7940 Jones Branch Dr., Tysons, VA 22102
Cost:
$50 per family, or $25 per individual
Fee covers costs of food and materials.
---
For More Information, Contact:
Diane Monnig, Transition Manager
703-208-1119 x118
Transition Series 2022 is planned and presented in collaboration with:
•  The students and faculty at Marymount University

---