I am so pleased to announce that our 2018 Developmental Disabilities Advocacy Day will be Wednesday, January 17, 2018.
In keeping with tradition, anyone is welcome to hop on a FREE bus leaving The Arc of Northern Virginia at 6:45 AM on January 17th to join our group in Richmond and advocate for disability services and supports. We'll spend the day working in small teams and meeting with legislators and advocating alongside other DD groups from across the state. We will return to The Arc around 3 or 4 PM.
It is a busy, fun day that makes a big impact. Having a crowd makes and impression and ensures we won't be forgotten in Richmond as laws and the budget for 2018 are passed.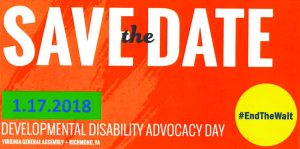 Save the date and spread the word for now. If you're already totally sure you'd like to join the bus OR meet us in Richmond and join one of our advocacy teams, please email me with your name, home address, and phone number.
Yours in Advocacy,
Lucy Beadnell
Director of Advocacy
703-208-1119 x116