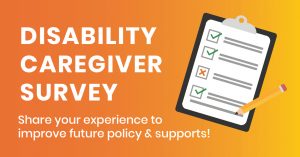 Caregivers of people with intellectual and developmental disabilities have unique experiences and needs in their roles compared to caregivers of other populations. Now is your chance to share your input.
The Family and Individual Needs for Disability Supports (FINDS) survey seeks to understand these experiences and perspectives to better support families like yours.
The FINDS survey is conducted by the Research and Training Center on Community Living (RTC/CL) at the University of Minnesota and uses insights of family caregivers to shape better public policy and service delivery systems.
"Results of the FINDS survey have had a direct impact on our programs and services here in northern Virginia," said Diane Monnig, The Arc of Northern Virginia's Director of Programs. "Data from FINDS was invaluable as we worked to implement our Transition POINTS program.  The responses helped lead us to understand where caregivers were struggling and what information and access to resources would be most useful."
The survey can be completed online and is available in English, Spanish, and French.  And those who complete the survey will be entered into a drawing to win one of six $250 gift cards.
Your perspective is important and can help create a future of better supports and opportunities for people with IDD and their families!