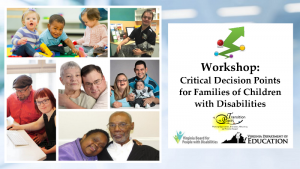 Wednesday, April 1, 2020 (Really! No foolin'!)
10:00 a.m. to 2:30 p.m.
The Arc of Northern Virginia
2755 Hartland Road, Suite 200
Falls Church, VA 22043
This important training for parents will be presented by the Virginia Department of Education and the Virginia Board for People with Disabilities, and is hosted by The Arc of Northern Virginia's Transition Points Program.
The purpose of this training is to assist parents in understanding:
Keys to your child's academic success,
Decisions you need to make regarding your child's educational path,
Critical decision points, and when they should be made, and
Information needed to make well-informed decisions for your child.
Cost of the workshop is $10 per person, which includes a provided lunch.
Space is limited, so register early!


Questions: Call Diane Monnig at (703) 208-1119 ext. 118 or Email DMonnig@thearcofnova.org.