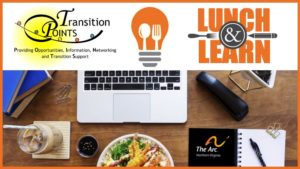 Just a reminder that there will be no Transition Lunch & Learn sessions in August.  We will resume our twice-monthly virtual lunchtime gatherings in September.
Planning for the transition from school to adult services can be an overwhelming task. Once your child exits the school system, adult services are based on eligibility criteria and funding availability. These small group sessions are an opportunity to begin creating a plan for the future. Learn what kinds of employment and meaningful day support services are available, how to explore post-secondary options, what transportation supports exist, how to help your child make decisions and advocate, when to apply for SSI and manage benefits, and what recreation activities are available.
It's never too early to plan; you don't have to wait until your student is close to graduation. Also, these Lunch & Learns would be a great way for families who started the process but got overwhelmed or stuck to find the motivation to restart the process and press forward.
If you have questions, please email Diane Monnig, Director of Programs at dmonnig@thearcofnova.org.