---
November, 2020
Dear Friend of The Arc of Northern Virginia,
Martin Luther King, Jr. defined power as the ability to achieve purpose and affect change. The Arc of Northern Virginia has been affecting change for the families we serve for nearly 60 years. As a nation, we've known hardship during that time; history teaches us that working together, we can get through the COVID-19 crisis.
While this year has been difficult, I'm proud that The Arc of Northern Virginia responded to the crisis with creative problem solving and played a vital role to ensure that the families we serve can achieve a better life for their loved ones with an intellectual or developmental disability (ID/DD). And I am grateful for YOUR support. You give us the power that sustains our commitment to changing lives in our community.
Can you help us serve families in need? Will you make a financial contribution to The Arc of Northern Virginia?

So how do we do it? How do we forge the way forward so this crisis doesn't wipe out decades of progress?
We summon the power within ourselves and stay true to our vision, guided by three principles:
We Pause. Amid the chaos, The Arc of Northern Virginia has remained passionately dedicated to serving our families. 2020 reminds us that we may occasionally have to pause to assess a changing environment, but we can't stop. We pause to reaffirm our priorities to better reach our goal of a fully-inclusive community, where all individuals are valued for their abilities and celebrated for their achievements. That is too important to quit.
"From the first day I learned that The Arc of Northern Virginia was helping my great-grandson, it has been a blessing beyond my expectations. He can now communicate with others, he has made incredible progress in school, and his teachers said he would probably meet the goals to graduate! What this says to me is, 'Don't ever give up.'" – J.M., Springfield, VA
We Pivot. We realized it wasn't "Continuity of Operations," but "Our Families Need Us Now More Than Ever." So we charted a new pathway around obstacles. From expanding our use of modern technology to good, old-fashioned ingenuity, we found innovative ways to continue to connect families to the resources, benefits, supports, and services they needed to thrive. Anything—large or small—that we could find a way, we did.
"I want to extend my gratitude for recommending I move ahead with the DD Waiver application. I appreciate all The Arc of Northern Virginia's resources available — especially all the recent virtual trainings. All this stuff is really overwhelming, but you give us so much more confidence to move ahead and do what we need to do for our children." – L.M., Arlington, VA
Do you know that if you donate today to support families like these during this crisis,
your gift can go TWICE as far? (More on that later.)

We Persevere. We see great resilience in the families we serve—through their determination, grit, and perseverance. We celebrate when parents and caregivers witness their children achieve a significant milestone or cross a seemingly impenetrable barrier. These achievements inspire us to keep striving each and every day to help them rebuild and grow from adversity, knowing that The Arc of Northern Virginia was able to play a part in it. Now, we move forward into 2021 with the lessons this year has taught us.
This mom shares one of my favorite achievements solved during the pandemic:
"The Arc of Northern Virginia was invaluable in helping our son place into his own apartment during the [COVID-19] pandemic. Without their help, none of this would have been possible. He is loving his independence and we are so happy that he feels at home in his new place." – G.T., Centreville, VA
While we successfully reimagined much of our work, some things simply could not be carried out. Coronavirus required us to cancel our November Gala—but it doesn't wipe out the needs of those we serve, or the financial support essential to meet those needs. Vision 2020 was created to ensure that we can continue to serve families throughout the crisis and position us to start next year on the strongest foundation possible.
Your gift to Vision 2020 offers immediate resources that are directed to current needs and opportunities in our community. A donation now is especially important because your impact can be doubled.
Longtime friends Julie and Mike Connors have generously pledged to match DOLLAR for DOLLAR donations of any amount—up to $25,000 in all. Your donation today will be doubled. That's DOUBLE the kindness and DOUBLE the impact for people with intellectual and developmental disabilities.
I'm so thankful to the Connors' for their dedication to our mission, and I hope it will inspire others – perhaps you – to contribute to the cause. This is how, together, we will persevere. United in our vision for a brighter future, we can help families like this overcome barriers that prevent their ability to access benefits:
"Thanks to your kind support and excellent guidance, my son is going to get his full SSI benefit. If you hadn't pointed me in the right direction, I would not have been equipped to best advocate for my son. The very first resource I uncovered was your 3-minute webinar about SSI and benefits. There is just so much great online information available from The Arc of Northern Virginia that I refer to it as a 'treasure trove.' I hope you all feel a sense of reward and satisfaction in knowing you have made a difference, because you have and I am grateful." – L.H., Troy, VA
These are but a few of the expressions of gratitude that are more than just 'thank you'—they are voices of hope. You can provide hope to many who endure great struggles. Vision 2020 is a call for us to unite our efforts and demonstrate our never-ending commitment to push forward even when times are tough.
Can you give today to show your commitment to people with disabilities of all ages
and help us make the most of the Connors' generous match offer?

Thank you in advance for supporting our mission to promote and protect the human rights of people with intellectual and developmental disabilities of all ages and actively support their full inclusion and participation in the community throughout their lifetimes. Together, we will make an important difference!
With a grateful heart,

Rikki Epstein
Executive Director
P.S.:  I want to thank our Vision 2020 Co-Chairs, Doug Church and Chuck Kettenacker, for leading this important effort for all of the families that we serve.
P.P.S.:  Remember to make your donation right now, so that the impact of your gift may be doubled by Julie and Mike Connors' challenge match. Your generous gift can help us turn $25,000 into $50,000, and double the difference we can make together for people with disabilities of all ages.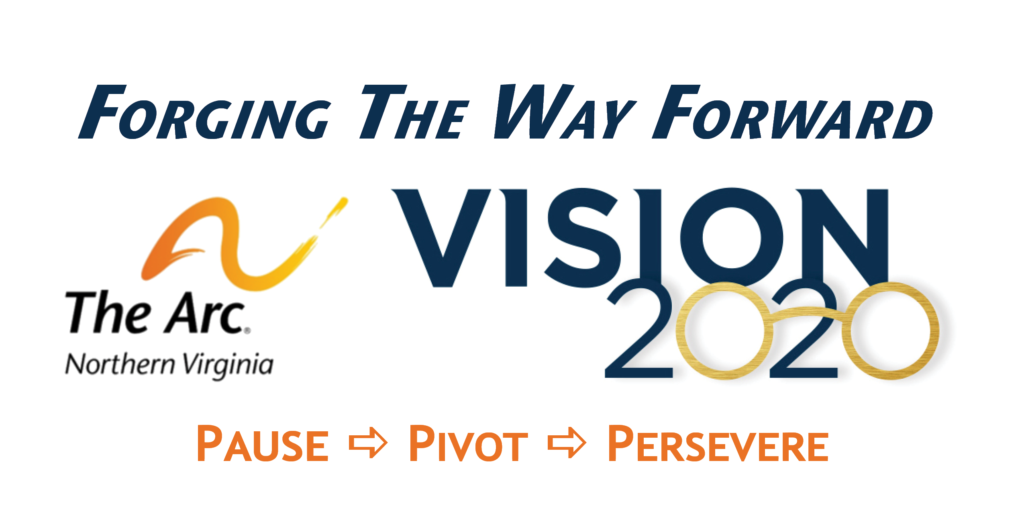 ---
For more information on supporting The Arc of Northern Virginia, please contact
Howard Stregack, Director of Development, at 703-208-1119 ext. 102 or email HStregack@TheArcofNoVA.org.
The Arc of Northern Virginia (Tax ID# 54-0675506)