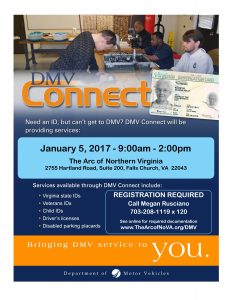 DMV Connect – January 5, 2017 
9:00am – 2:00pm
The Arc of Northern Virginia
2755 Hartland Road, #200
Falls Church, VA 22043
Registration is required.
Please call Megan Rusciano for appointment time and required documentation.
703-208-1119  x120
DMV Connect is DMV's newest service outreach program. Connection teams carry portable equipment to serve individuals with disabilities and sensory issues that have difficulty visiting the areas DMV office.
Identification is necessary to secure jobs, open bank accounts, enter public buildings, and apply for benefits. To ensure individuals with disabilities have a valid ID card to be connected to their community. DMV connection teams will be at our offices to help families in a small group setting.
Connection teams can issue identification cards, and Disability Placards. REquired doucmentation must be presented at the time of your visit.
DMV employees securely process real-time transactions. The new ID card is mailed from a secure central location to the customer's address.