---

It's a BEACH PARTY!
Benefiting The Arc of Northern Virginia
Thursday, August 3, 2023
Clare & Don's Beach Shack
130 N. Washington Street, Falls Church, VA 22046
Clare and Don's Beach Shack is donating 10% of all food and drink sales (dine in and carry out)
from 3:00 – 9:00 p.m. to The Arc of Northern Virginia.
IT'S BACK! Dine Out at Clare & Don's Beach Shack has been one of our most loved events of the year. Now, it's time to "shake the shack" once again. Join us in Falls Church for a rousing good time.  Plan to meet friends for an evening. Gather your co-workers and bring them for an after-work social.  Corral the family, hang the 'CLOSED' sign on the kitchen, and bring them all out for a great dinner.
AND… We're thrilled to welcome back the popular band Big Tow, who always delivers the fun!  The guys in the band have graciously supported our mission by sharing their talents at this event every year.  They'll take the stage and entertain the patio from 6:00-9:00 p.m.  We are so incredibly grateful that they will rock-out for us once again.
You don't want to miss the good food, cold drinks, and of course the fun and fellowship. It's a FUN event!  So invite your family, bring your friends, and support our mission all at the same time.
---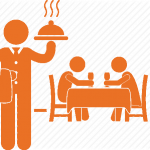 Throughout the year, local businesses help The Arc of Northern Virginia by hosting fundraising events for our benefit.  Each event is different and gives you a chance to enjoy a meal, meet our staff, members, and board of directors, all while supporting our mission.  Care to host a Dine Out event at your restaurant?  Contact Howard Stregack at HStregack@thearcofnova.org to find out how.