When asked to describe her late husband Frank, Linda Trippett answered without hesitation. "He was a man of substance, and he was a man of integrity," she said. "One of the quotes from the celebration of Frank's life was 'He leaves monuments everywhere.'"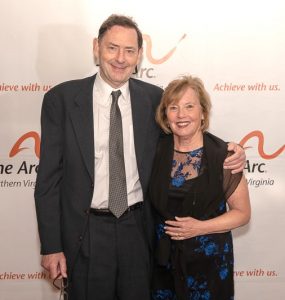 These qualities, which served Frank Trippett so well in his years advocating not just for his daughter Hailey but for an entire community of people with intellectual and developmental disabilities, were at the core of the Trippett family's philosophy when they established the Frank Trippett Advocacy and Outreach Fellowship at The Arc of Northern Virginia last year. It was created as a tribute to his enduring commitment to assisting people with intellectual and developmental disabilities to achieve lives of their own choosing within their community. The appointment begins in July and runs through the end of May 2023.
Linda recently joined Lucy Beadnell, Director of Advocacy at The Arc of Northern Virginia, and Rob Hudson, Communications Associate, to meet Joseph Albert, who joined The Arc in July as the inaugural recipient of the Fellowship. It gave Linda the opportunity see her family's efforts to honor her husband finally come to fruition, and to meet the young man who will move Frank's legacy forward. As soon as Linda and Joe began talking, commonalities became apparent. Both Frank and Joe were huge Bob Dylan fans, for example. Several Dylan songs, such as Gotta Serve Somebody and Ring Them Bells, reminded Joe of what he perceived as Frank's approach to life, "a mind toward service, and a mind toward caring about others," as Joe said.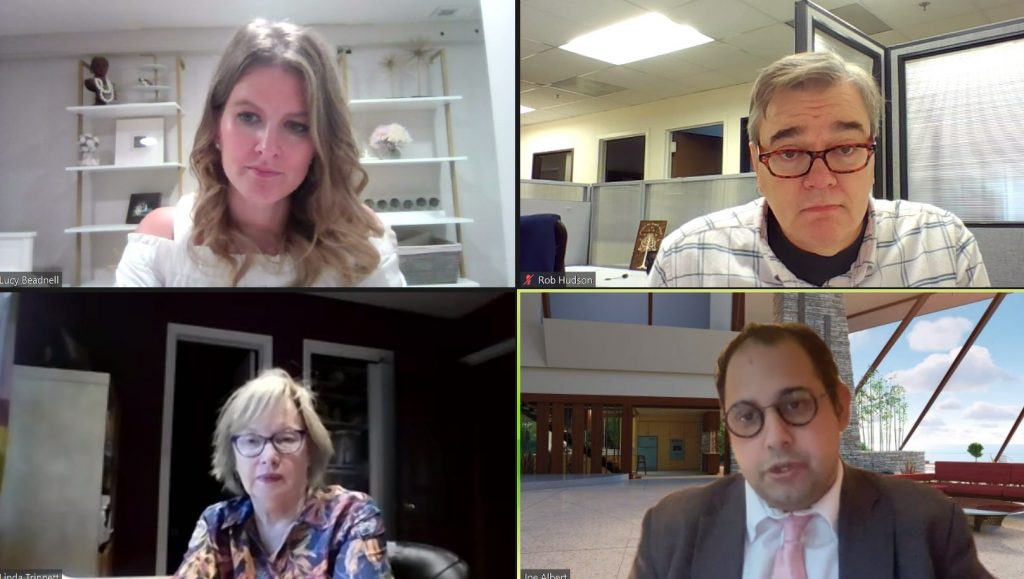 Linda agreed. "I never heard him say an unkind word about anyone," she said, echoing the sentiments of many of Frank's friends and associates. "He wasn't a goodie two shoes. If you met him, you found he had a very dry wit. But he was very humble. I actually think Frank would be embarrassed by this. He really would say, 'What's all the fuss?'" Joe wanted to get a better idea of the relationship between the Trippett family and The Arc of Northern Virginia, and how the organization had helped their family. "We had a lot of disasters before we found The Arc," said Linda. "They have been invaluable. They had every resource we needed, they were patient, and they tried to fit the waiver with how it would benefit Hailey the most. It took a lot of pressure off us, to give her a life like yours."
"As someone on the spectrum, The Arc has certainly been there for me in the past to help my family," said Joe. "So to be able to work for them and to be a part of this Fellowship is a huge opportunity as I learn how to get involved with advocacy and with helping others. Sharing that has helped me greatly." Lucy Beadnell shared that appreciation for the opportunity the Fellowship opened up for Joe. "I remember how hard Linda and Frank fought for Hailey to have great employment opportunities, and I think Frank would be so pleased to know his life opened the door for another person." For Linda, meeting Joe has been a transformative experience. "It's very moving for me," she said. "I think from the things we've learned about each other today, I believe Frank would be really touched."
"We did a lot of thinking about what this fellowship could or would be," said Beadnell, "and I feel like the question we kept coming back to was how was this a continuation of Frank Trippett? How do we take the things he was so great at, being loving and easy and welcoming with people and being inclusive, always doing such a nice job at pushing things forward, and make that a part of his legacy moving forward? I had the benefit of knowing Joe before he applied for the Fellowship, and I'm so glad that I did. Joe is passionate about those same things, and he's coming at them as a self-advocate. It felt a little like the stars aligning."
For Joe, this is just the beginning, and he looks at the life and work of Frank Trippett and his family to provide both a roadmap and a baton to be passed. "My goal is to try to shape the fellowship as much around advocacy as possible, to work with The Arc to make this not only fit with the qualities and character of Frank, but also to fit with what makes The Arc of Northern Virginia what it is."