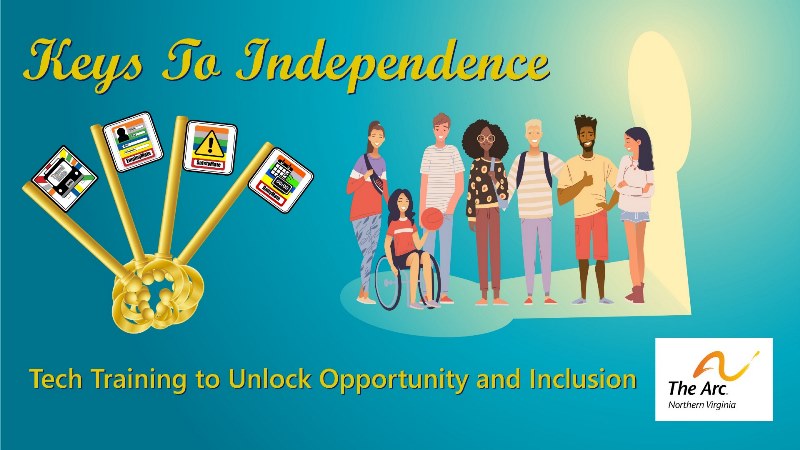 Announcing the next virtual training for families to acquire our award-winning
TravelMate, EmployMate, DailyMate and SafetyMate online curriculums!
---
About Keys to Independence
---
This fall, The Arc of Northern Virginia will offer the next Tech for Independent Living training for individuals with developmental disabilities and their families. The purpose of Keys to Independence will be to provide direct access to, and training on, our suite of online independent living curriculums, including TravelMate, EmployMate, SafetyMate, and DailyMate. This continues our commitment to offer our award-winning suite of "apps" directly to families.
This will be a virtual experience with a variety of formats including Zoom, small group virtual meetings, and one on one support meetings throughout the four day experience.
General Event Information
---
Who:
•  People with developmental disabilities 18 years and up, and
•  a dedicated family member (parent, sibling (over 16) who commits to full participation for the entire course
•  Keys to Independence is designed to be a participatory experience. True learning and confidence will come from actually formatting and using the apps.
When:
This 4-session training will begin September 20th, and wrap up on September 30th
Monday September 20 – 5:00-6:00 p.m.
Thursday September 23rd – 5:00-6:00 p.m.
Monday September 27th – 5:00-6:00 p.m.
Thursday September 30th – 5:00-6:00 p.m.
Where:
A virtual, LIVE event on your computer, tablet, or smart phone
Format:
•  Four "classroom" meetings for each course session,
•  Additional small group meetings,
•  "Stump the Experts" sessions, and
•  One-on-one Consultations – individual support with a volunteer mentor available in the evenings by mutual appointment.
All activities will include interactive presentations, activities and games.
Equipment Required:
•  a tablet (any kind), or smart phone for the person needing support
•  a laptop or desktop computer, tablet or smartphone for the parent or sibling.
Additionally, each individual participating in Keys for Independence will need to provide an email address and phone number.
Outcomes:
•  At the end of each Keys to Independence course, each family will leave with customized lessons for their family member that can be used immediately for daily virtual support towards living as independently as possible.
•  Each individual with a developmental disability will receive a YEAR LONG LICENSE to TravelMate (public transportation) and DailyMate (daily living activities), access to our other 'Mates, and BONUS educational lessons and supports in modified formats.
Registraton Information
---
Registration for this next Keys to Independence training session will open at 6:00 p.m. on Wednesday, September 8th.  Class size is limited.  Those who register after the class is full will be placed on a waiting list, in the event that a cancellation makes a space available.

Questions? Just Ask!
---
Questions about Keys for Independence?  Email: peter.leisen@thearcofnova.org