About the Program                    Transition POINTS Guides                    Transition POINTS Workshops
Developmental disabilities (DD) by definition last a lifetime, so caring for a loved one with DD is a lifelong responsibility. Because of the nature of these disabilities, caregivers must make crucial (and often very difficult) decisions throughout the lifespan of their loved one—where he or she will go to school, what they will do for recreation, where they will live, and how to ensure his or her financial security once the caregiver is no longer there.

While caregivers want to make the best choices for their loved one, research shows that many do not have the resources to do so. A national survey by The Arc found many families struggling to help their loved one with an intellectual disability:
• 80% of families surveyed don't have enough money for needed care and almost half report having more caregiving responsibilities than they can handle
• 85% report that their adult family member with ID/DD was not employed either full- or part-time
• 62% of families have no long-term care plan
• 75% can't find after school care, community services or summer activities for their loved one
• 59% report they don't have enough information to make good choices about housing options
• 65% report that they don't have enough help in planning for the future.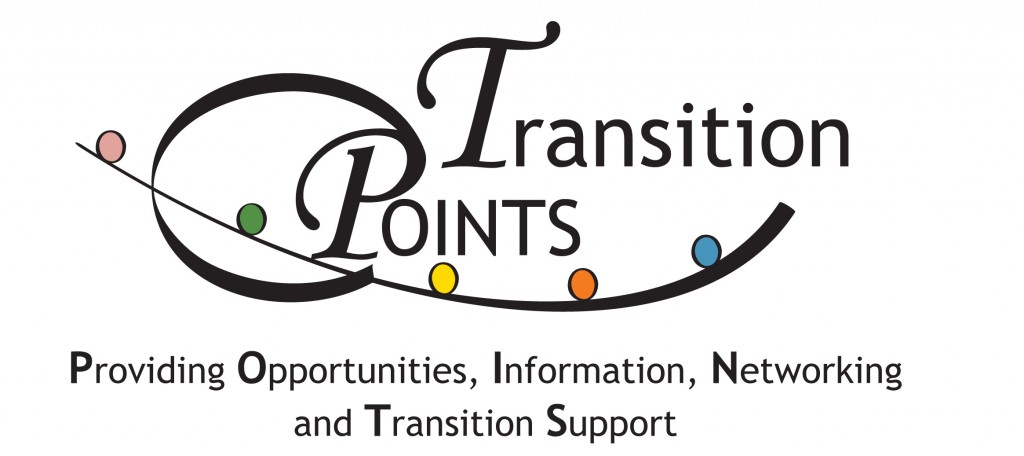 About Transition POINTS
Families need realistic, actionable information with which they can make a wide range of decisions as their child grows up.  Providing this information is the mission of The Arc of Northern Virginia's Transition POINTS program (Providing Opportunities, Information, Networking and Transition Support).  Transition POINTS focuses on six key decision points in the lifetime of an individual with an intellectual disability:
• Receiving a diagnosis and entering an early intervention program
• Starting school and entering the special education system
• Preparing for and transitioning out of the school system and into adult services
• Entering the world of work
• Finding a place to live outside the caregiver's home
• Aging with a disability

Transition POINTS Guides
As a first step in Transition POINTS, we have written six guides to address important issues that parents should consider at each of these important life stages. The guides are designed to help you recognize opportunities, weigh options, and work through decisions. Checklists, timelines, worksheets, and links to other resources are included wherever possible. Each document has also been reviewed by a task force of parents and professionals with relevant experience and expertise.

Although each guide addresses issues related to a specific phase of life, each repeats information parents and caregivers need to know whether their loved one is two, 22 or 62 years old: how to protect your loved one's financial future, how to apply for benefits, and where to go for more help, these comprehensive booklets help guide you through the process to find services and programs for you child or adults with a disability.
•  Early Intervention – Starting Life with your Child with a Disability
•  Special Education – Getting the Most from Special Education
•  Transition to Adult Services – Securing a Future for your Child with a Disability
•  Employment – Entering the World of Work
•  Housing – Finding a Home for Adults with Disabilities
•  Aging – Aging with a Disability
Transition POINTS Guides in Other Languages
Translations of Transition POINTS series of guides are made possible by a grant from the Virginia Board for People with Disabilities.  Additional support was provided by the Foundation for Children with Intellectual and Developmental Disabilities/Civitan Club of Tysons and the Rotary Club of Alexandria.  In recognition of the diversity of the community we serve, we are proud to offer our Transition POINTS guides in the following languages:
•  Amharic
•  Arabic
•  Chinese
•  Korean
•  Spanish
•  Vietnamese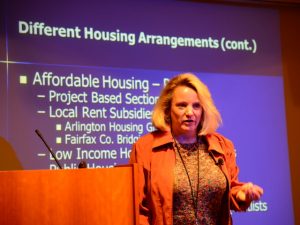 Workshops
As a second step, we present a number of workshops and seminars throughout the year. These workshops are a great way to hear from not only disabilities services professionals and experts in the field, but also to interact with others who are in the same situation. Meeting and sharing with other family members is a great way to feel connected with and find support from the disabilities community.

Transition Series
Transition Series is our annual 2-day*, interactive experience designed to educate and empower families and individuals with disabilities as they transition from school-provided services to community-based services for adults.  While parents, caregivers, and disability services professionals are attending a series of workshops, young adults with disabilities are engaged in a curriculum of various lessons and activities designed to address a range of transition situations they may encounter.
Marymount University Students and transition participants talk about transition and The Arc of Northern Virginia's Transition Series

---
Funding for Transition POINTS was supported, in part, by the Virginia Board for People with Disabilities, under grant number 1601VABSDD, from the U.S. Administration for Community Living (ACL), Department of Health and Human Services, Washington, D.C. 20201. Grantees undertaking projects with government sponsorship are encouraged to express freely their findings and conclusions. Points of view or opinions do not, therefore, necessarily represent official ACL policy.
---
For further information on The Arc of Northern Virginia's Transition POINTS program contact:
Diane Monnig, Transition Manager at 703-208-1119 x118 or email DMonnig@TheArcofNoVA.org.
For information about sponsorship opportunities to help support the expansion of Transition POINTS, please contact:
Howard Stregack, Director of Development, at 703-208-1119 x102 or email HStregack@TheArcofNoVA.org.