Navigating the Waiver System
What is a Waiver?
A Waiver is a long-term support system for someone who will have long-term care needs, like someone with a developmental disability.  Once you're awarded a Waiver, you will have access to a menu of services offered by your Waiver.  Frequently used services include attendants who work one on one with the person with a disability, respite care so parents can have a break from care provision, group home supports where a person with a disability lives in a home shared by other people with disabilities, long term employment or meaningful day services, assistive technology, environmental modifications, nursing, and more.  These services are offered at no or very low cost.  A comprehensive list of services by Waiver is on pages 2-3 of this handout.
Who Needs a Waiver and Who is Eligible?
People who need assistance with taking care of themselves, managing their environment, or maintaining a job because of a disability should consider Waivers.  It is the only public funding for long term developmental disability supports.  You will need a clear developmental disability diagnosis and IQ score to apply for the Developmental Disability Waivers and a clear disability diagnosis and medical need to apply for the CCC Plus Waiver.  IQ testing often comes from a licensed psychologist (through school, insurance, or private pay) and should be no more than a few years old.  If you're over 22 when you first get diagnosed or when you re-do testing, you'll need to show documentation from before age 22 indicating a disability was present (e.g. an IEP, statement from a doctor).  You'll also need to show that you need functional help with daily activities and meet financial eligibility to apply.  Details on these topics are also in this handout if you keep reading.
What are the Types of Waiver?
This handout covers the three Disability Waivers (Community Living Waiver, Family and Individual Supports Waiver, and Building Independence Waiver) as well as the Commonwealth Community Care (CCC) Plus Waiver because they are the most common Waivers for people with developmental disabilities.
The three Disability Waivers are a continuum of services for people with developmental disabilities.  The Community Living Waiver is aimed for the minority of our population who have extremely high medical, behavioral, or support needs and provides 24/7 active services.  The Family and Individual Supports Waiver is the Waiver for the majority of people- those who need supports for between a few hours and most hours of the day, including overnight monitoring in some cases.  The Building Independence Waiver is for people who can live and work with a fair amount of independence, but need drop in supports.  People utilizing the Waiver are assessed every three years with a test called the Supports Intensity Scale (SIS) to measure the intensity of their needs.  People with more needs receive a higher reimbursement rate for some of their services.
People can move between these three Waivers if their needs change over time.  Moving to a Waiver that serves people with higher needs may sometimes involve a waiting period.
The CCC Plus Waiver is for people who have a developmental disability or are over age 65 and have significant medical needs.  Its services are primarily attendant and respite care, and some nursing.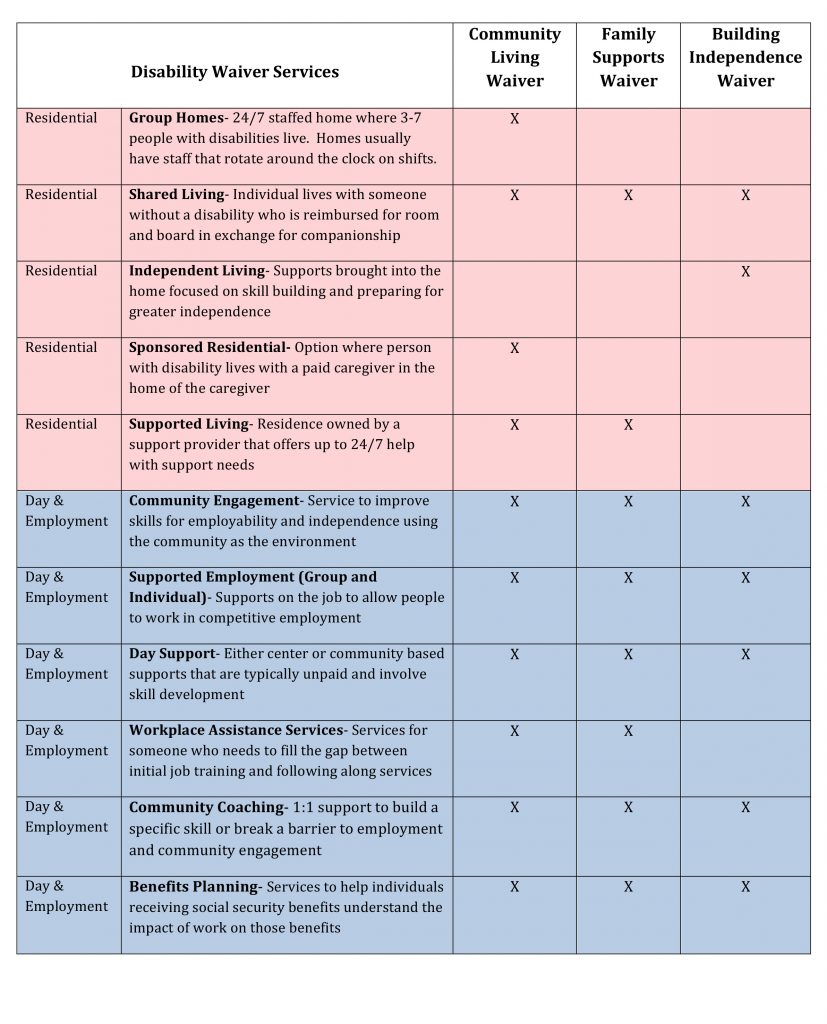 Down Load a PDF of Table.1: disability-waiver-services_table-1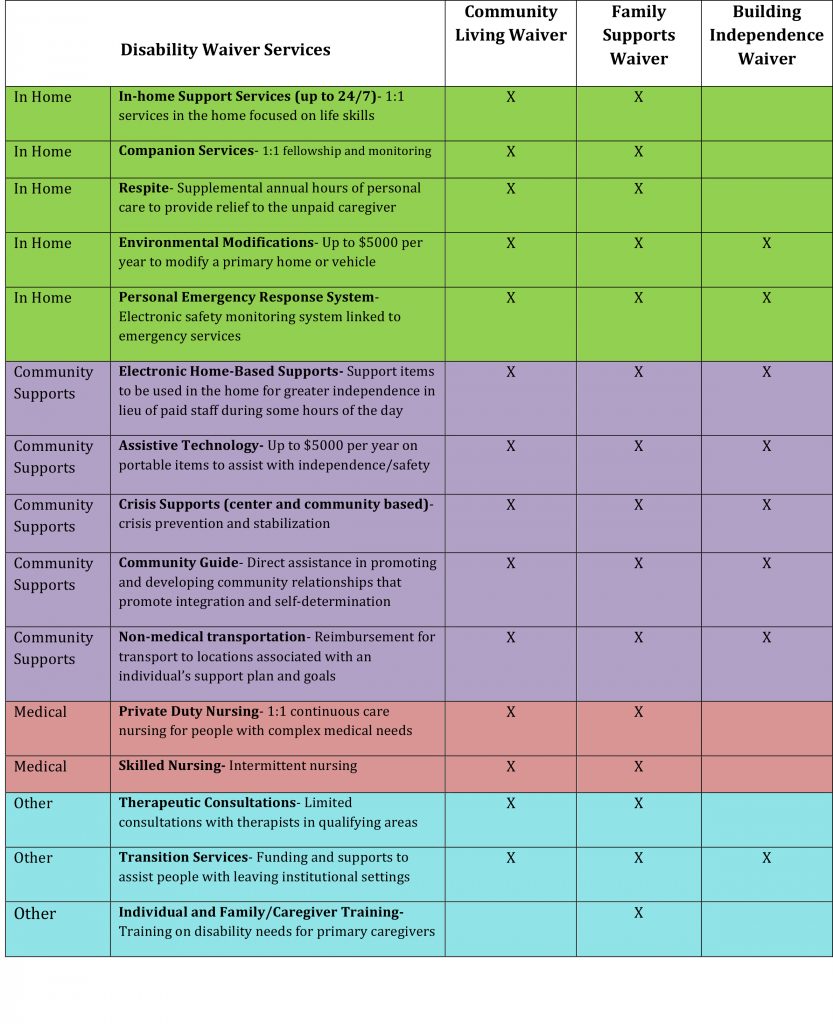 Down Load a PDF of Table.2: disability-waiver-services_table-2
How is This Funded?
Waivers are funded by Medicaid and are often called Medicaid Waivers.  The person with a disability must qualify for long-term care Medicaid to use a Waiver.  As of 2017, this means that the person with a disability cannot have more than $2,000 in assets in their name (no cap if under 18 years old), unless those assets are in a Special Needs Trust or ABLE Account, and they cannot earn more than $2,205 per month.  The person with a disability will get Medicaid once they get a Waiver.  They can use that Medicaid as a supplemental health insurance if they like, or they can drop their other insurance coverage and only use Medicaid if they choose.
Why Should I Apply?
Anyone with a developmental disability who needs daily support should apply.  Even though some Waivers have waiting lists, if you qualify for a Waiver, you will eventually receive services.  As you grow and change, you can use more or fewer Waiver services to meet your needs.  The Waiver should grow with you over time and provides the supports you need to be as independent as possible in your community.
Also, as a result of a Department of Justice settlement agreement with Virginia in 2012, if you're on the waiting list for either an ID or DD Waiver, you can apply for up to $1,000 each year to purchase supports you need to be independent and safe.  This is called the Individual and Family Supports Program.
How Long is the Wait?
The Disability Waivers have a combined waiting list based upon urgency of need.  People in Tier One of urgency need services within the year, people in Tier Two need services in 1-5 years, and People in Tier Three need services several years out, but are planning ahead.  The list shifts constantly as situations change, so you should be in touch to share information about your urgency as it changes with the group that put you on the list (more in the chart below).
The CCC Plus Waiver has fewer services, but no waiting list at all.  About 1/3 of the people on the Disability Waiver waiting list also qualify for the CCC Plus Waiver and use it while they wait to receive some supports.
Down Load a PDF of Table.3:  Table.3.updated07.2017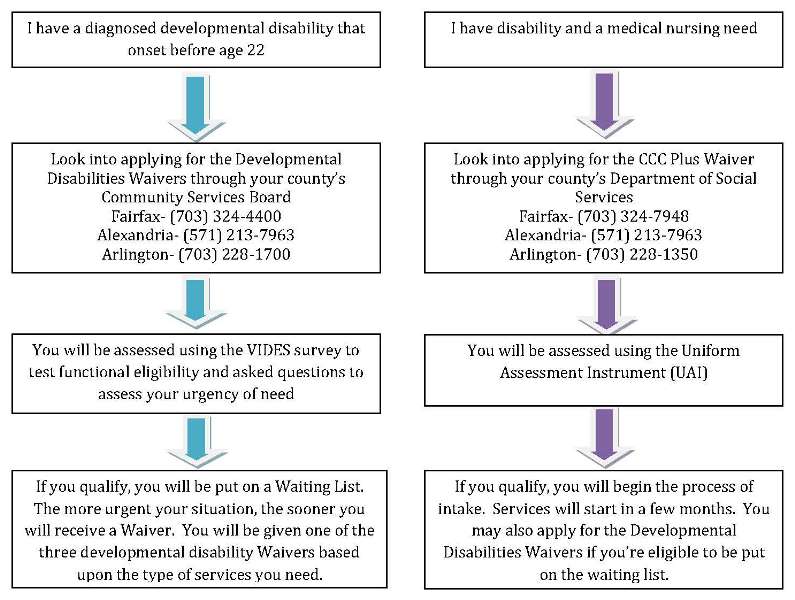 Where Do I Find Out More?
To sign up for The Arc of Northern Virginia's e-newsletter that shares Waiver news and learning opportunities- http://www.thearcofnova.org