More than 59 years ago, parents and families like you started The Arc of Northern Virginia as a grassroots organization of members who wanted to improve the lives of children with disabilities. Now six decades later, YOUR VOICE can be part of the collective that contributes to the strength of our grassroots movement. History has shown that the cumulative voice has considerable influence, so we invite you to be part of our unified movement as a member.
Why Your Membership Matters
A chapter's membership contributes to a strong and effective community presence. Here are five important reasons why you should consider membership in The Arc of Northern Virginia: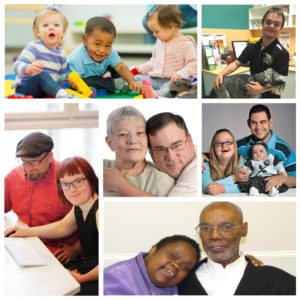 • Members are connected. Membership connects you to others who share your beliefs and your challenges. We are parents, family members, self-advocates (individuals with disabilities),  advocates, and community members – all comitted to ensuring  that children and adults with disabilities have every opportunity to lead full, rich lives in the community with the supports and services that they need.
• Members provide clout. A large membership base means a louder voice to policy makers and elected representatives.
• Members spread the message. Awareness is an outgrowth of membership, and awareness is the first step to creating society-wide acceptance of people with disabilities.
• Members make services possible. Your membership helps our chapter provide much needed trainings, information & referral, life supports, and advocacy services while educating the community on the needs, rights, and abilities of people with disabilities.
• Members strengthen our community. Your support helps people with disabilities become more independent, productive, and fully included in our local community. Without your help there is less opportunity for personal growth and achievement.
Our membership program is designed to engage the local community and the people we support to join with us and advocate for people with intellectual and developmental disabilities throughout the Northern Virginia Region. The membership program gives us the leverage to continue our efforts to promote inclusiveness and support of those with intellectual and developmental disabilities on both the local and state level because we are backed by the support of our members.
Consider Joining as a Sustaining Member
When you join The Arc of Northern Virginia's Sustainers Society, you will join a special group of people reaching out each month to provide hope for people with an intellectual or developmental disability and their families. Sustainers Society members embrace and embody the "A Life Like Yours" philosophy.
Exceptional disability support programs that serve real people and real families have real costs. By becoming a sustaining member, with your ongoing monthly contribution, you form a strong foundation of support The Arc of Northern Virginia can count on each and every month to uphold the work we do.
•  The beauty of becoming a sustainer with an ongoing monthly gift is that it's very affordable… it breaks down your annual donations into smaller, easy monthly amounts.
•  Sustaining membership is easy and hassle-free. There are no membership renewals to remember, no checks to write, no trips to the post office for stamps — since it comes automatically from your credit card each month.
•  Your $10 or $20 a month donation may seem small, but it makes a big difference. Your sustaining gift combined with those of your fellow Sustainer Society members adds up to a big impact over time.
•  Donating monthly is one simple action that will help make it possible for thousands of others to connect with advocacy, financial guidance and support, access to independent living tools, case management and guardianship services, and information and education support across the entire lifespan for years to come.

* Or join the Sustainers Society with a monthly amount that works best for you and helps you to make the impact you envision.

Join With An Annual Membership
You can also become a member of The Arc of Northern Virginia by making a single, annual contribution.  Your membership creates positive change in your community and helps The Arc of Northern Virginia stand beside your children, neighbors, friends, and colleagues as they strive for complete inclusion in every aspect of community life.
There are several membership options that offer you the opportunity to support The Arc of Northern Virginia with an annual financial gift that best fits your circumstances. Whatever level you join as, we will be thrilled to have you as a valued member!


---
For more information on supporting The Arc of Northern Virginia, please contact
Howard Stregack, Director of Development, at 703-208-1119 ext. 102 or email HStregack@TheArcofNoVA.org.
The Arc of Northern Virginia (Tax ID# 54-0675506)