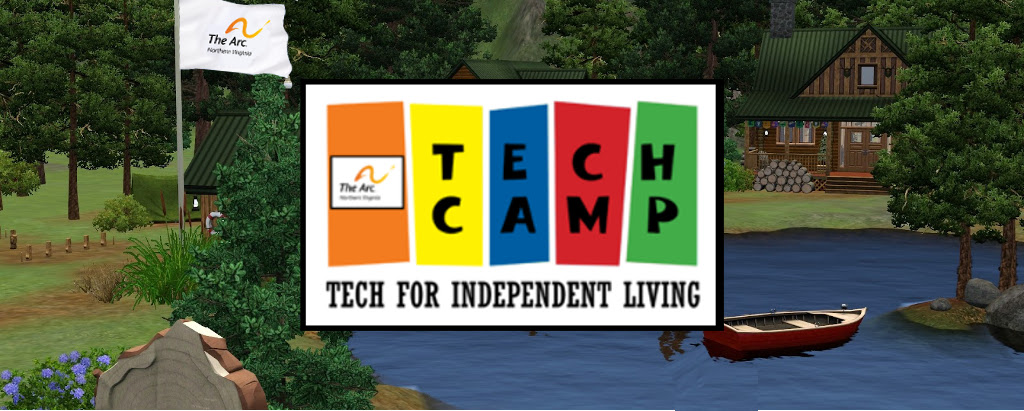 Announcing a hybrid (virtual and in-person) experience for families
to acquire our award-winning virtual custom lessons that aim to guide people with IDD
through life's daily routines and challenges!
---
About Tech Camp
---
This summer, The Arc of Northern Virginia will feature two TECH CAMPs for individuals with intellectual and developmental disabilities and their families. The purpose of Tech Camp will be to provide direct access to, and training on, our suite of online independent living lessons. By hosting this training opportunity as a "summer camp" experience, our goal is for participants to have fun, socialize, and make friends while using and learning technology to become more independent. On the Friday of each week, there is an optional short Metro rail trip leaving from and returning to the Dunn Loring Metro station. During this practice trip, individuals with disabilities will learn basic travel skills and will become more comfortable traveling on the Metro. SmarTrip cards will be provided.
This year's Tech Camp will be a hybrid learning experience, attendees can choose to participate in person or remotely via Zoom.
General Event Information
---
Who:
• People with intellectual and developmental disabilities 14 and up
• A dedicated family member (parent, sibling (over 16) who commits to full participation for the entire TECH Camp experience for those who choose in person
• TECH Camp is designed to be a FUN, PARTICIPATORY experience that the whole family can enjoy!
When:
Camp #1: Monday July 17th- Thursday July 20th, optional Metro trip on July 21st – SOLD OUT
Camp #2: Monday August 7th- Thursday August 10th, optional Metro trip on August 11th – Space Available for VIRTUAL OPTION ONLY
*see additional details under format
Where:
TECH Camp 2023 will be presented as a HYBRID Event, you can choose in person at The Arc of Northern Virginia or Zoom. There will be an optional in-person Metro trip at the end of camp!
*During the assigned Metro trip, it is the choice of the family whether you go out into the community safely (with masks and social distancing as needed) for short field trips to a bus stop or Metro Station.
Format:
A four day hybrid "Camp" experience in your own home or in-person at The Arc of Northern Virginia
• Lodge Meetings: 10am-12pm each day – will include small group Cabin Meetings as well as large group workshops and trainings
• Optional Individual Camper Sessions – 1-3pm each day – Parents and caregivers can sign up for one-on-one 30 minute meetings with our Tech for Independent Living team staff to discuss how the program can further help their campers.
• Follow up support will be provided after the camp for those who choose to utilize the program.
Equipment Required:
• A laptop or computer to join us on Zoom.
• A tablet, smartphone or computer for each camper to utilize the lessons.
Cost:
Registration costs for Tech Camp is $35 per camper, per camp.
Outcomes:
• Each family will leave Tech Camp with direct access to, and training on, our catalog of virtual custom lessons that help with traveling, employment, safety as well as daily living skills.
• Each individual will receive access to our new app TFIL app from The Arc of Northern Virginia.
Registration for our JULY 2023 camp sessions is FULL.
Space is still available for the August VIRTUAL (Zoom) option only.

Questions? Just Ask!
---
Questions about Tech Camp?  Email: techforindependence@thearcofnova.org