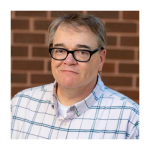 Rob Hudson is a Frank Trippett Advocacy and Outreach Fellow, and Community Outreach Associate for The Arc of Northern Virginia. Rob's advocacy on behalf of his daughter, Schuyler, who has a rare disorder called polymicrogyria, has guided his personal philosophy for the past twenty years.
I like to imagine we're all creating gardens in the world. We stand before a patch of earth, and the soil is dark and rich, just waiting to be tilled and receive whatever we choose to plant there. The things we plant in those gardens matter a very great deal. I'm not just talking about the things we want to bloom in the world, such as inclusive attitudes in our built environments, social structures and in our own hearts. I also mean the persistent weeds and choking vines that come from careless ableism and a lack of commitment to accessibility and inclusion. In gestures both large and small, these things matter. They send a message to our children and our society. We should choose that message carefully. "Take care of your people. And they're all your people."
When tending those gardens, our story is one of the most effective tools we as family advocates have.
There's an old writing adage that says, "Show, don't tell." In my own experience, I've found that no matter how self-impressed I've ever been with a speech or article I've written, my own advocacy was never as powerful or as effective at reaching my audience as simply stepping aside and letting my daughter speak for herself. People might listen to me go on about disability rights and human rights, and perhaps they'll nod along in agreement. But then they meet my daughter, and they say, "Okay, now I get it. I see the person she is."
It is crucial that we put the stories of the people we love and advocate for out in front of the public, particularly policymakers, employers and the media, because we know the powerful and lasting effect those stories can have. Revealing our loved ones as fully realized human beings in the eyes of others opens doors. When you learn to understand someone who's different, you learn to care about them. And we build a better world for people we care about, because that feeds the best part of us.
It can be challenging to share, however, because those stories are, by their very nature, deeply personal. They involve us getting it wrong sometimes; they tell of our stumbles along with our victories. Most of all, our stories are chronicles of vulnerability, and sharing our vulnerabilities can be the scariest act of all.
For about fifteen years, I've been engaging in a kind of advocacy, and even activism, that centers around telling stories, and in many of them, that has meant exposing not just my daughter's successes and challenges, but my own moments of blunder, frustration, poor choices and just simply getting it wrong. They're not always stories of me being an obvious fool; often, it's only after I've written something that I go back and understand what I've revealed about my own advocacy or the world around my daughter. But taken together, all those stories map out a very twisty and indirect path.
Why do I do it? Why do any of us who write about this world of disability reveal so much about our deeply flawed processes? The answer for me is that when I read the accounts of other, better writers or even those whom I perceive to be better parents, I never find myself reacting to their own flawed stories with judgment, but rather with understanding and self-identification. I've learned so much from others who have been down this road before me and who have already hit all the potholes ahead. In sharing my own family's journey, I like to think I might help someone behind me miss a few bumps in the road as well.
For people new to the world of disability advocacy, and I guess I'm mostly talking about parents but not exclusively so, the stories of those who have come before become lifelines. Likewise, sharing their own experiences, even at the beginning, becomes critical for others. In this way, we as a community grow, feeding on the experience of others even as we ourselves are nurtured. Together, we create lush, healthy gardens that survive through the tough seasons.
On November 17, 2023, I will be hosting The Family Village Forum, the first of what will become regular monthly meetings of members of the IDD community who are interested in growing their advocacy. This forum will provide a space for people to be able to share their own stories and to ask questions of others who have come before them or who are in the same place in their journey.

Together, I hope we can build confidence in the work we're all doing for our loved ones and a sense of determination as we advocate for them in a larger world. The early meetings of the forum will focus on special education and early intervention, so if you are experiencing this stage of life with someone with an intellectual or developmental disability, or have been through these experiences and would like to share your thoughts, I hope you'll attend The Family Village Forum, beginning on November 17 at 12:00 pm noon.

---

The Frank Trippett Advocacy and Outreach Fellowship was established in 2021 by the family and friends of the late Frank Trippett. It was created as a tribute to his years-long advocacy on behalf of people with intellectual and developmental disabilities. The Fellowship seeks to create an enduring legacy to Frank's advocacy and deep personal commitment to helping other families like his connect to vital resources.
Consider making a financial contribution to The Arc of Northern Virginia to honor Frank's memory and his commitment to outreach and advocacy.