By Carolyn Klein
Tell us if this story sounds familiar:
From the comfort of two hard plastic chairs at the specialist's office, you held your loved one's hand while the two of you listened to a doctor who prophesized everything your loved one's future didn't hold. That was the nature of a diagnosis– you couldn't do much beyond hearing it out. As you did, you noticed the look on the doctor's face: how disconnected his or her expression seemed from what you were feeling, then and there. They seemed certain; you felt lost.
With enough time, you've found your way of navigating the world of disability. Diagnoses- like prophecies- are vague and incomplete, describing only basics. You knew your loved one would be more than a blanket list of can't-dos and can-nots from the moment you received it. Like anybody else, they'd have their strengths, their hobbies, their quirks, those jokes that only they found funny; they'd have a few areas in which they'd need extra support. Over time, you came to notice and appreciate the details. The diagnosis drew a colorless sketch of your loved one that scarcely looked like them- by knowing the little details, you colored in the outlines of that image and made it look like them. And you've made sure, wherever possible, to present the fullest picture of your loved one when negotiating accommodations for them or with them at school or in the community to help them get the services they need.
Surely, the process is hardly as easy as it's written. Disability policy- as with any area of law- is procedural, and the legal approach can feel disconnected from the community it serves. But the law is not without its human aspect: legislators are people, too. They simply need an opportunity to connect with your experiences- intellectually, morally, personally. That's why advocacy is so important to our community. By getting involved in the process, Virginians with disabilities and their families- like yourself- can bridge the gap between what the laws offer and what your family needs to be healthy and successful.
Being an advocate gives you an opportunity to keep legislators informed about issues they may not be familiar with and crises they didn't know needed solving. Since legislators work to resolve issues in so many areas, we cannot fairly expect them to be up-to-date with every crisis or keep all problems in the forefront. Yet many have not realized the financial costs of Virginia's crisis-based budget system compared to one that treats even lower priority cases as quickly as possible. Reminding legislators about fiscal realities will hopefully get them pointed in the right direction. Through advocacy, you can also guide legislators toward recognizing the moral imperative of action. Everyone respects the family unit. We can all agree, then, that it would be best not to split families apart so parents can send their children to schools that can accommodate them.
Above all, it's important to provide humanity to statistics by giving our cause faces, and those faces their own voices. Standing before legislators gives you the chance to tell them about your family: what you're interested in, what you stand for; your experiences and your story- whatever they are- as you want to tell them. Your words can inspire lawmakers to adopt policy change in a way that numbers or moral hypotheses can't. At forging connections between people, no other tool quite rivals the power of storytelling; everyone's moved by the power of a good story.
—————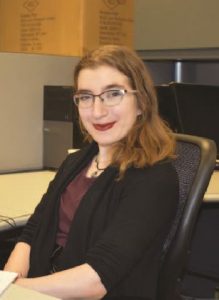 Carolyn Klein is a summer intern with The Arc of Northern Virginia. She is a junior in the Honors College at George Mason University, majoring in English with an emphasis on creative writing. Carolyn has a history of volunteerism, and working with youth programs. Her internship with us was arranged through a partnership with BroadFutures, a nonprofit organization that provides an innovative holistic training, mentoring, and paid internship program revolutionizing the way young people with learning disabilities enter the workforce. Carolyn is creating and curating content for our website, newsletters, and other marketing materials, and we're so glad to have her on our team for the summer.