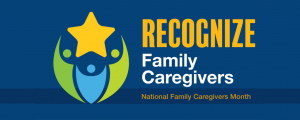 Celebrated every November, National Family Caregivers Month is a time to recognize and honor family caregivers across the country. It offers an opportunity to raise awareness of caregiving issues, educate communities, and increase support for caregivers. This observation offers an opportunity to raise awareness of caregiving issues, educate communities, and increase support for family caregivers.
Families are the primary source of support for people with disabilities and older adults in the U.S, and we honor those who provide daily support helping family members with IDD manage their activities of daily living and helping them access the community.
Many caregivers work and also provide care, experiencing conflicts between competing responsibilities. Research indicates caregiving also takes a significant emotional, physical, and financial toll. With nearly half of all caregivers over age 50, many are vulnerable to a decline in their own health. Studies show that coordinated support services can reduce caregiver depression, anxiety, and stress, and enable them to provide care longer, which avoids or delays the need for costly institutional care.
The White House issued President Joe Biden's proclamation for National Family Caregivers Month 2023, saying in part, "… we recognize the love and sacrifice of millions of American caregivers. They are the backbone of our country, caring for young children, aging parents, disabled veterans, injured service members, and others who need support and medical assistance. Let us celebrate and honor our caregivers and renew our efforts to protect their dignity, health, and security. Because when we care for our caregivers, we honor our American ideals and move closer to a future where no one in this Nation is left behind."
The theme for National Family Caregivers Month 2023 is #CaregiversConnect, to highlight the importance of connections—as a way to get information about a loved one's condition, to share experiences and get support, and to form meaningful bonds with those in our networks.
#CaregiversConnect when you're sitting in the waiting room of your loved one's oncologist's office and start comparing experiences with the caregiver sitting next to you. #CaregiversConnect at the support group for parents of children with Autism at the community center.
#CaregiversConnect to information when you visit the website that your neighbor recommended. And #CaregiversConnect when you call your grandpa who lives several states away and is living with Parkinson's.
#CaregiversConnect raises awareness of your role as a family caregiver as you find out your co-worker is caring for a child with the same rare disease as your sister, or the woman sitting next to you at church is also caring for an adult child with IDD.
When #CaregiversConnect, whether it's for support, to get information, or just to talk to someone who understands what you're going through, it can help you feel less isolated. You are not alone.
Caregiving is a tough job. This November, we remember the people who lovingly give care to and comfort the millions of disabled, elderly and ill people who are friends and loved ones.