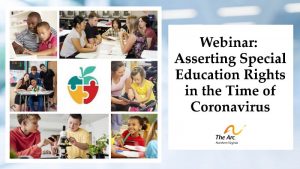 The coronavirus pandemic has completely changed public education. The challenges are compounded exponentially for those students with disabilities. This webinar will guide a discussion on how to advocate for your child's best educational opportunities.
Webinar: "If You Don't Ask, You Won't Get It" – Asserting Special Education Rights in the Time of Coronavirus
Thursday, July 16, 2020  –  12:00 noon to 1:00 p.m.
Presented by: Juliet Hiznay, Special Education Advocate-Attorney
Webinar topics will include deferred eligibility & reevaluation decisions, individualized education plans (IEPs) vs. virtual learning or distance learning plans, extended school year services, compensatory education , independent education evaluations, and filing a complaint in the state of Virginia.
Juliet D. Hiznay is an advocate and attorney, whose law firm provides support for children and young adults with learning differences. The firm was founded in 2013 by with a mission to enhance the educational outcomes of students by providing services directly to individuals and families.
<<  REGISTER FOR THE WEBINAR >>