According to Time Magazine, people with disabilities or who are experiencing episodes of mental illness likely comprise between one-third and one-half of total police shooting fatalities. Compliance with law enforcement can present many challenges for members of the disability community, whose anxiety is also likely to exacerbate an already stressful situation. These encounters with law enforcement and fire/rescue responders are inevitable, so emergency personnel are working harder than ever to educate both the disability community and their own officers on how to successfully navigate these unique and stressful situations.
With preparation and practice, citizens and emergency personnel can turn these encounters into positive experiences that can help bring communities together. Following a successful Advanced Crisis Intervention Training (CIT) event with the Fairfax Police in August, The Arc of Northern Virginia will be partnering with Arlington County Police as well as Arlington Fire and Rescue to hold another practice event specifically for individuals with disabilities and first responders.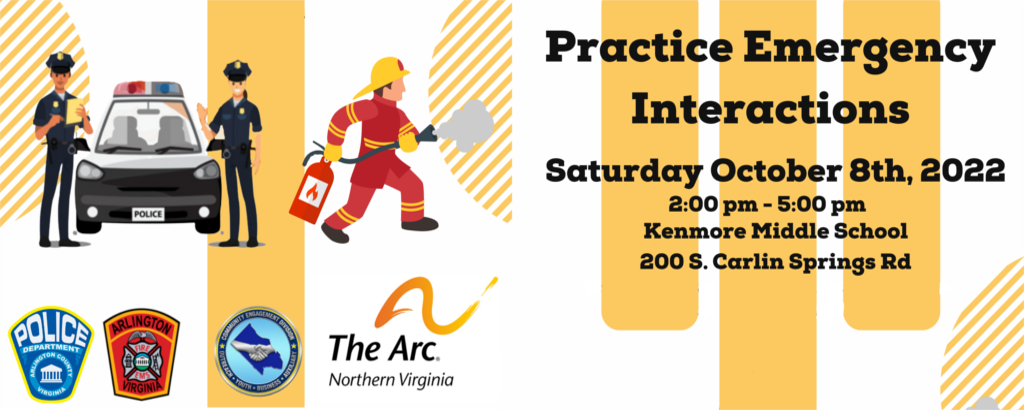 The Practice Emergency Interactions class is scheduled for Saturday, October 8, 2022 from 2-5pm, in the parking lot at Kenmore Middle School (200 S Carlin Springs Road, Arlington VA 22204.) This event expands the scope of emergency interactions to include not just police in scenarios such as traffic stops and car accidents, but also fire and rescue. Participants will experience situations like medical emergencies, fire emergencies and situations requiring an ambulance. This will be the first all-responder practice event that The Arc of Northern Virginia has held.
The Fairfax Advanced CIT Practice in August was a huge success, said Lucy Beadnell, Director of Advocacy at The Arc of Northern Virginia. "The event received rave reviews from the officers on site, and kind words from the participating families," she said. Approximately fifteen families participated in the practice stops.

Following the Fairfax event, one participant found himself in the unique position to put that practice to use. A few days after the training class, he was rear-ended by another driver. "These events are extremely helpful for drivers with disabilities because you get to learn about what to do if you are involved in a traffic stop or a car accident and what steps to take," he said. "Quite honestly, I would have been more nervous in the car accident and would not have known what to do if it hadn't been for the Interactions for Police Officers Event. Letting a police officer know that you have a disability is important because it will help police officers better help understand people with autism."

For the Arlington County Police, Fire, and Rescue event in October, participants will have the opportunity to engage with police and fire/rescue staff in a controlled environment, and are also welcome to exit the vehicle and speak with officers and responders, ask questions, and share their concerns. The event is designed to present a learning opportunity for law enforcement officers and firefighters as well as participants.
This event is open to anyone with any disability or general anxiety about police interactions, regardless of where they live. The person with a disability can be the driver (licensed or unlicensed and getting ready to drive), or a passenger or bystander. Please visit https://thearcofnova.org/events/practice-police-interactions/ to learn more and register.